Lapwing Farm Wedding Photography
Matt & Char
I loved shooting wedding photography at Lapwing Farm for Char and Matt. I first met these guys when I did their engagement photography at the Cheddar Gorge, so was really looking forward to seeing them again. These two managed to tie the knot on their third attempt at a wedding. A combination of Covid restrictions and Matt's postings with the Royal Navy made nailing down a wedding venue and date at a time when Matt was in the UK and Covid restrictions allowed proved to be very difficult, but they got there! Hurray!
Ask any Somerset wedding photography and they'll tell you that shooting wedding photography at Lapwing Farm is a dream booking. This beautiful 18th century stone barn is located on the Mendip Hills in an area of outstanding beauty. The perfect choice for couples looking for an outdoorsy, rustic, boohoo wedding – it really is a blank canvas for couples to create their wedding in their own way.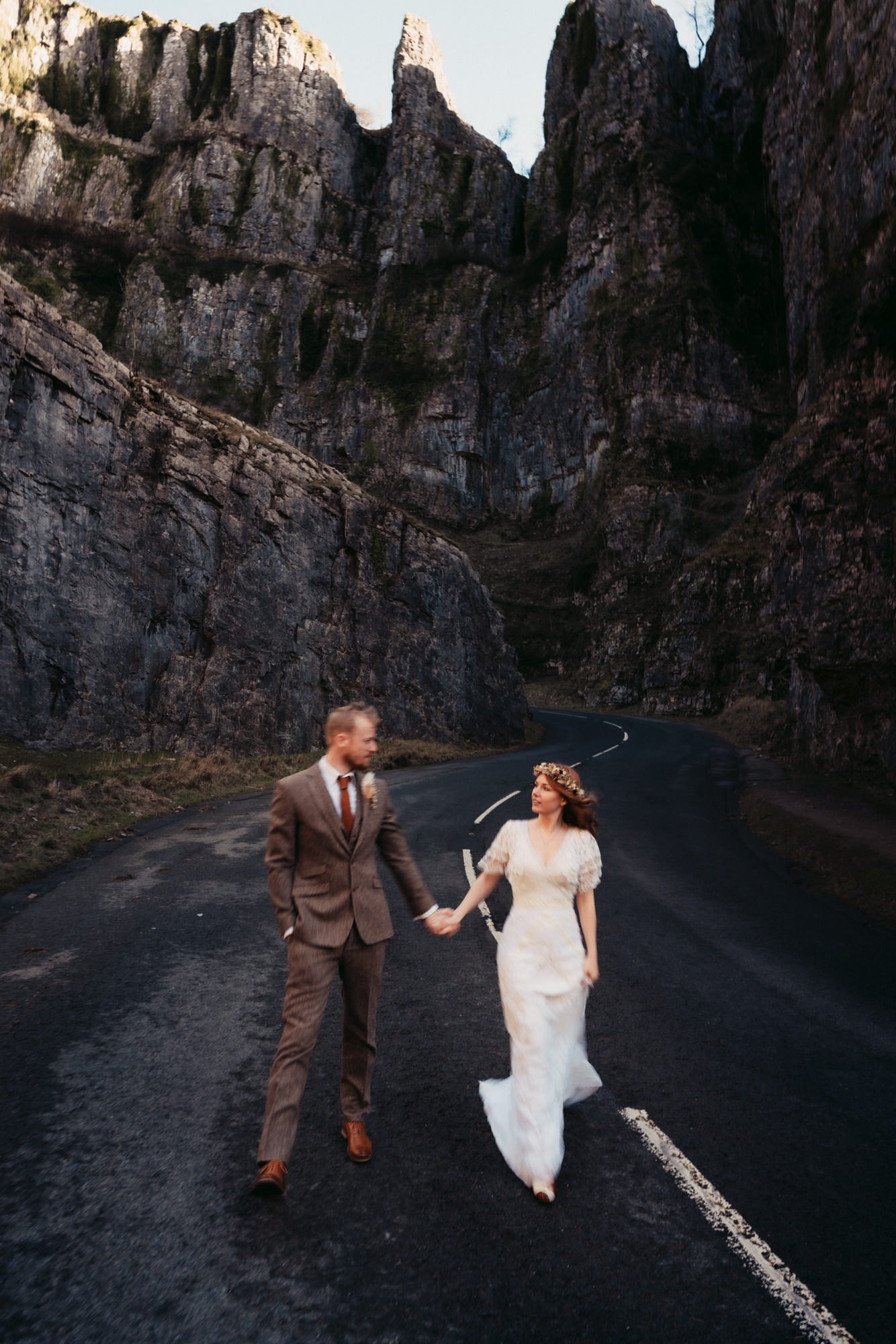 And these two (with the help of their family) rose to the challenge. Putting up their own marquee, building a bar, putting up lights, dried flowers and pampas and lace. The owners of Lapwing Farm, Duncan and Claudia, are really open to couples having the freedom to create their own weddings from scratch. When I return to shoot wedding photography at Lapwing Farm, I always seeing what my couples have done with it.
Creative and natural wedding photography at Lapwing Farm
Char looked amazing in the most pretty vintage lace gown that she bought from Poppys Perspective. It was so perfect for the chilled out boho vibe of the wedding. Matt, of course, wore his navy uniform for the ceremony but later changed into a perfect tweed suit with braces that he got from Clifton Suits in Bristol.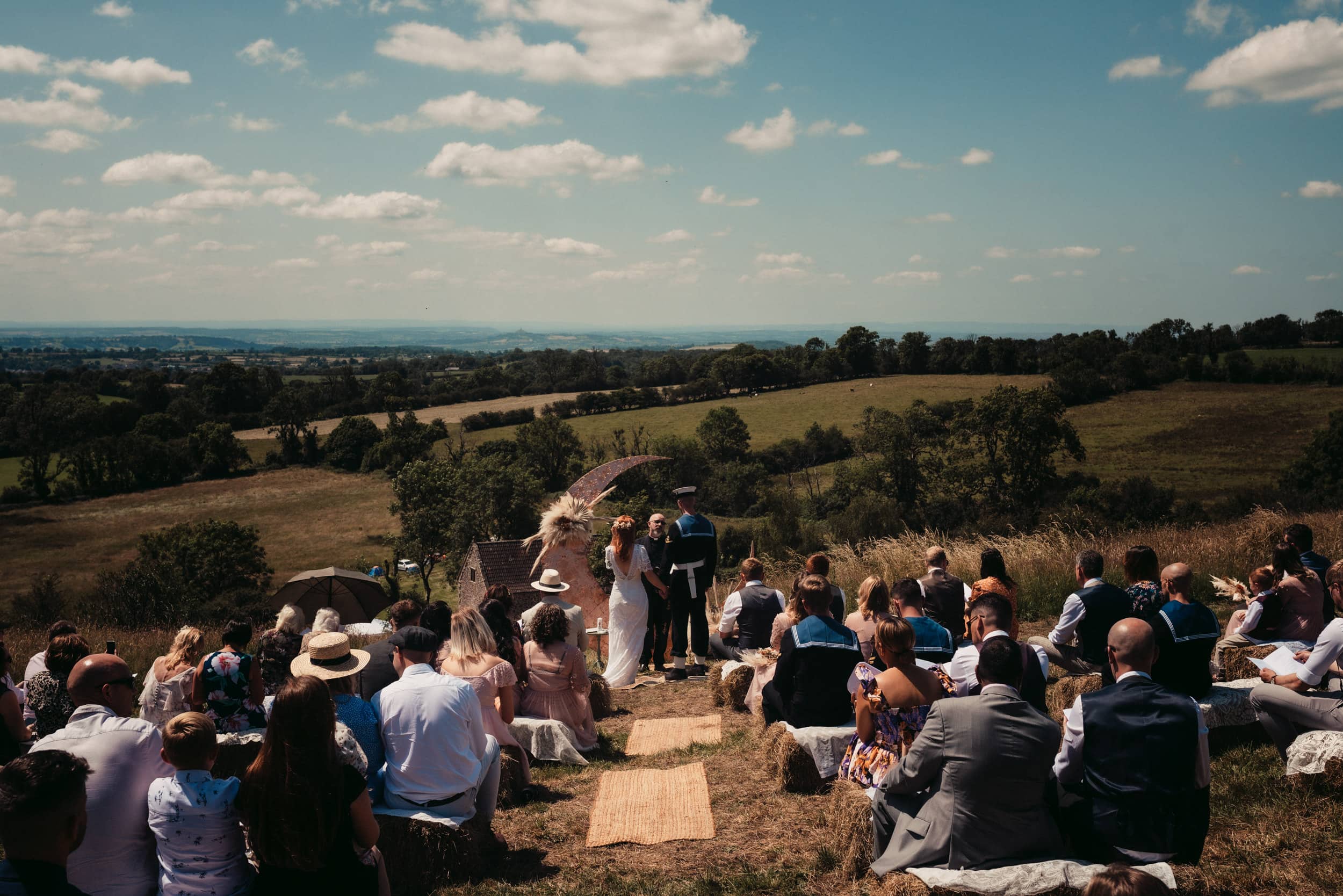 The weather on the day was perfect which was just as well as the wedding ceremony was held outside in a beautiful meadow that overlooked the Glastonbury Tor. Guests sat on haybales and simple benches watching Char and Matt take their vows against this majestic backdrop. It was so romantic.
As Lapwing Farm is in such a beautiful location and the character and charm of the stone barn means it doesn't need any dressing Char went with a colour scheme of blush pinks, orange (to represent the red heads in the family) and sage green. Char recently retrained as a florist and set up her own dried flower business so was the perfect person to choose the colour scheme and blooms for her wedding day.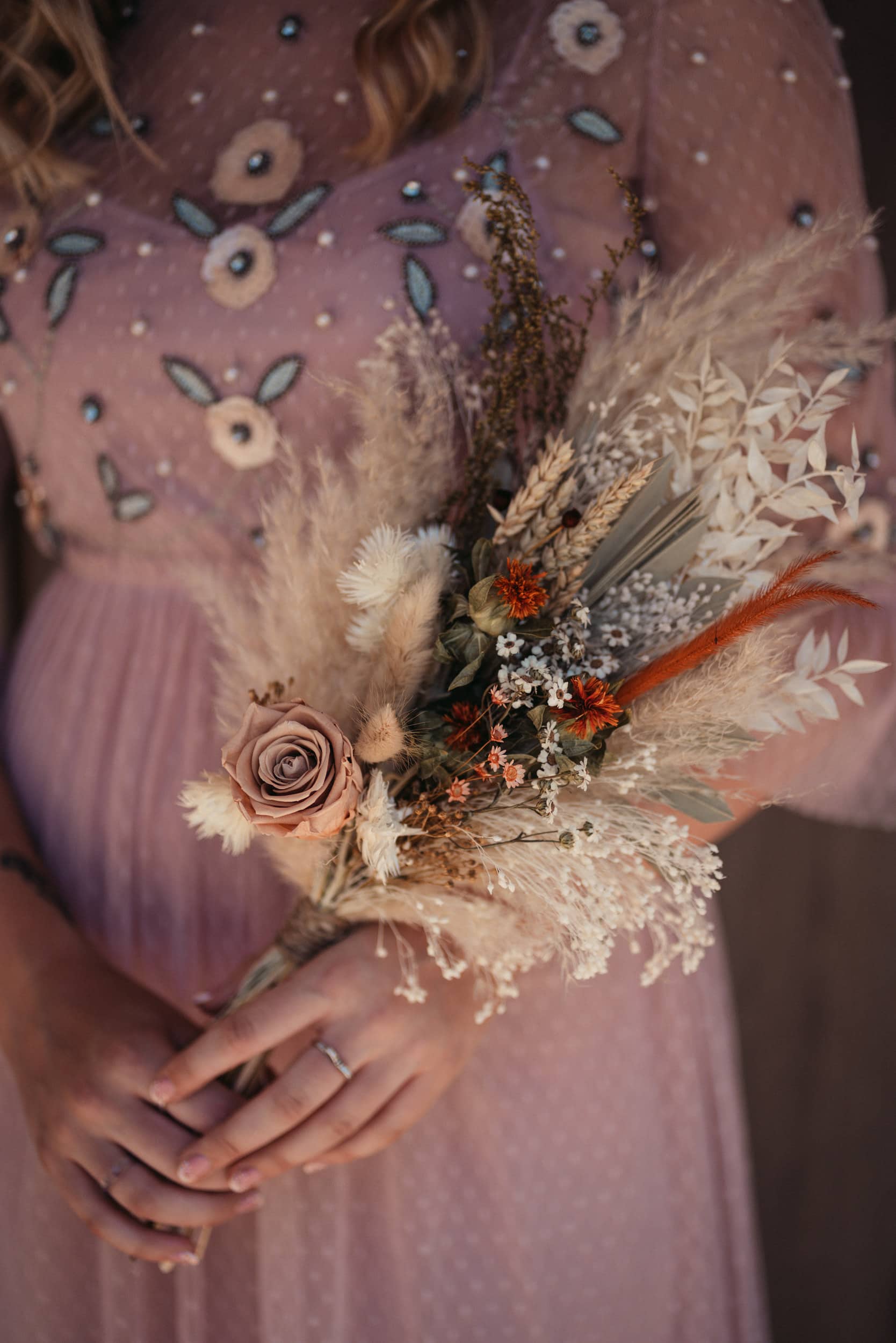 Storytelling Lapwing Farm wedding photography
Char had an army of bridesmaids, seven in total, all in gorgeous blush pink dresses. Char and Matt's daughter Amelie wore a pretty white dress with a pretty garland of flowers. She looked so sweet and had the best day playing with her cousins and eating lots of ice cream.
Talking of treats, the food and Char and Matt's wedding was delicious. In line with the weddings laid back boho style, they chose a buffet menu provided by the talented team at Spitting Pig, who did a hog roast with lots of different side dishes. In addition to that, there was fresh wood-fired pizza from Soul Dough. And of course, there was Amelie's favourite, the ice-cream bike, offering unlimited ice-cream to young, and not so young guests!
Char and Matt's wedding cake was in Char's words 'Sensational' and I have to say I agree. And as an experienced Somerset wedding photographer, I can tell you I've seen a lot of wedding cakes. It was made Aimee at Lemon Pip Bakery (Aimee is one of Char's bridesmaid's sisters) and it looked truly unique.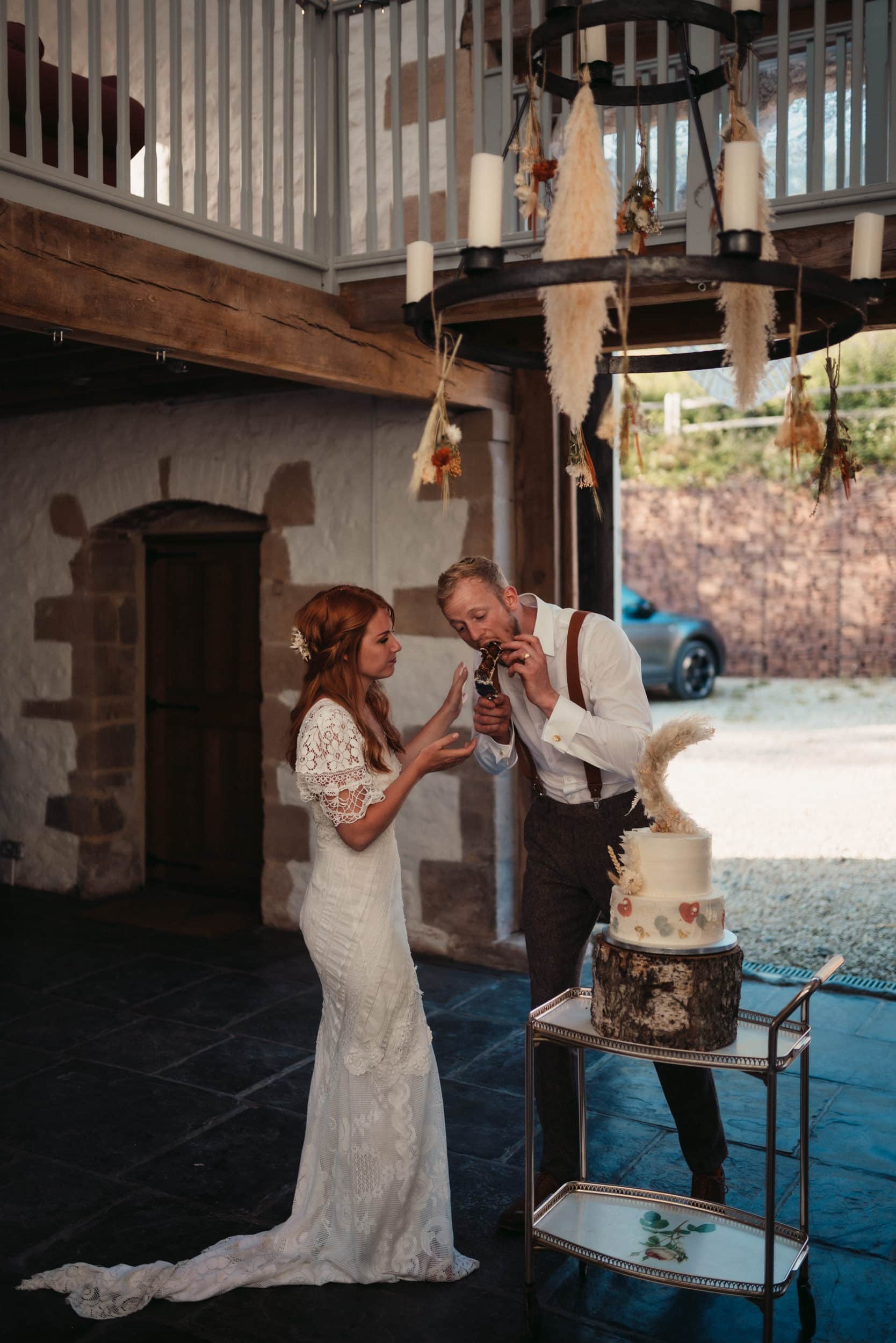 As the sun started to lower, I took advantage of the romantic low light and quickly whisked Char and Matt away for a mini photoshoot making the most of this spectacular location. The early evening low dappled sunlight created the most romantic portrait images of these two as the sunset on their wedding day. They were amongst my favourite images of the day.
Evening celebrations started with a romantic first dance to Char and Matt's favourite song 'I took a pill in Ibiza' to live musical accompaniment. It was a really romantic moment seeing them dance outside, as the sunset, in front of their loved ones.
A beautiful outdoor boho wedding in Somerset. Congratulations to Char and Matt for getting married and creating such an amazing wedding day for yourselves, your family and your friends to remember. And thank you for allowing me to tell the story of it.
I'll leave the last words to Char and Matt. Here's what they had to say about working with me.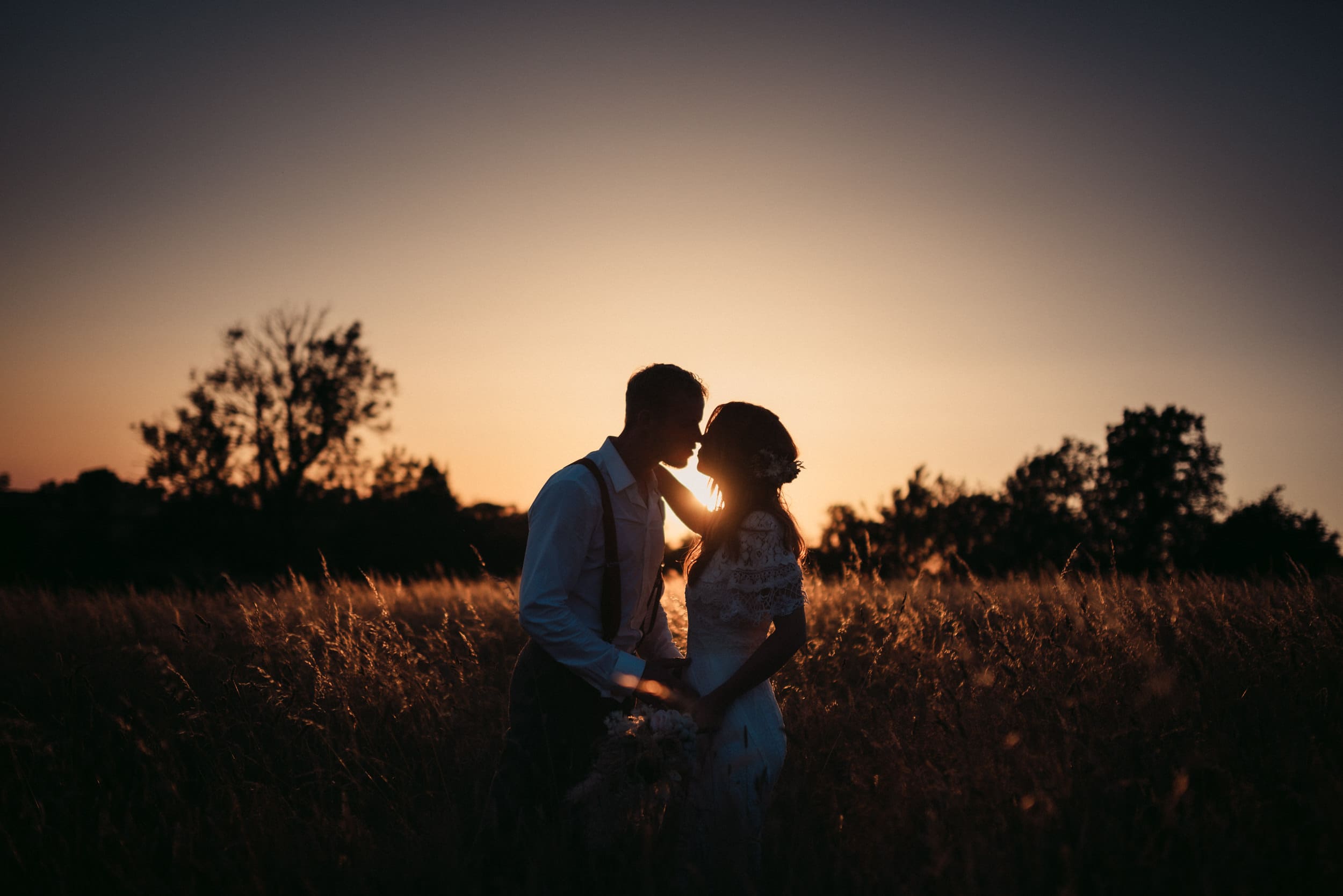 ""The photos came out absolutely stunning, we are so happy with them! The quality of the finished product, compared to a camera phone, is out of this world. If there's one thing I would recommend people to book, it would be a decent photographer!
Patrick was great fun to work with. We had the pleasure of meeting with him before the wedding for complimentary "engagement shoot". That is something worth its weight in gold! We felt a bit awkward about posing for photos before it but after spending a few hours with him we felt much more relaxed and looked forward to seeing him on the day. On the day of the wedding Patrick was with us all day but, apart from the standard family photos we asked for, we hardly knew he's was there. The photos tell a different story - he was everywhere all at once! We couldn't believe what he'd managed to capture. He sent us some taster photos the next day which were great fun to flick through, then then full gallery was released about 2 weeks later. We would recommend Wildly in love to anyone who is looking for someone you can trust to blend in to your day and capture amazing natural moments. We especially loved the action shots of our daughter and her cousins, as we never saw her all day! Now we know what she was up to - mostly eating ice cream!"

Matt & Char
Contact & Bookings
Want to book Patrick for your Wedding? Please hit the button below to get in touch.
Contact & Bookings