The Great Barn Wedding Photography
Emma and Alex
As a busy Devon wedding photographer, I am lucky enough to frequently shoot wedding photography at Great Barn in the pretty Devon village of Higher Ashton. Emma and Alex chose the perfect wedding venue for their late summer wedding in Devon.
On the day, I caught up with Emma and her bridal party and everybody was in good spirits getting ready. The hairstylist was Laura Elizabeth Avery and the make-up artist was Justine Oliver. Emma looked amazing in her dress that she bought at Maria's bridal boutique. It had an elegant back and skimmed her slender frame giving her a gorgeous silhouette in all of my images. Emma looked relaxed and suited being a bride and beamed all day!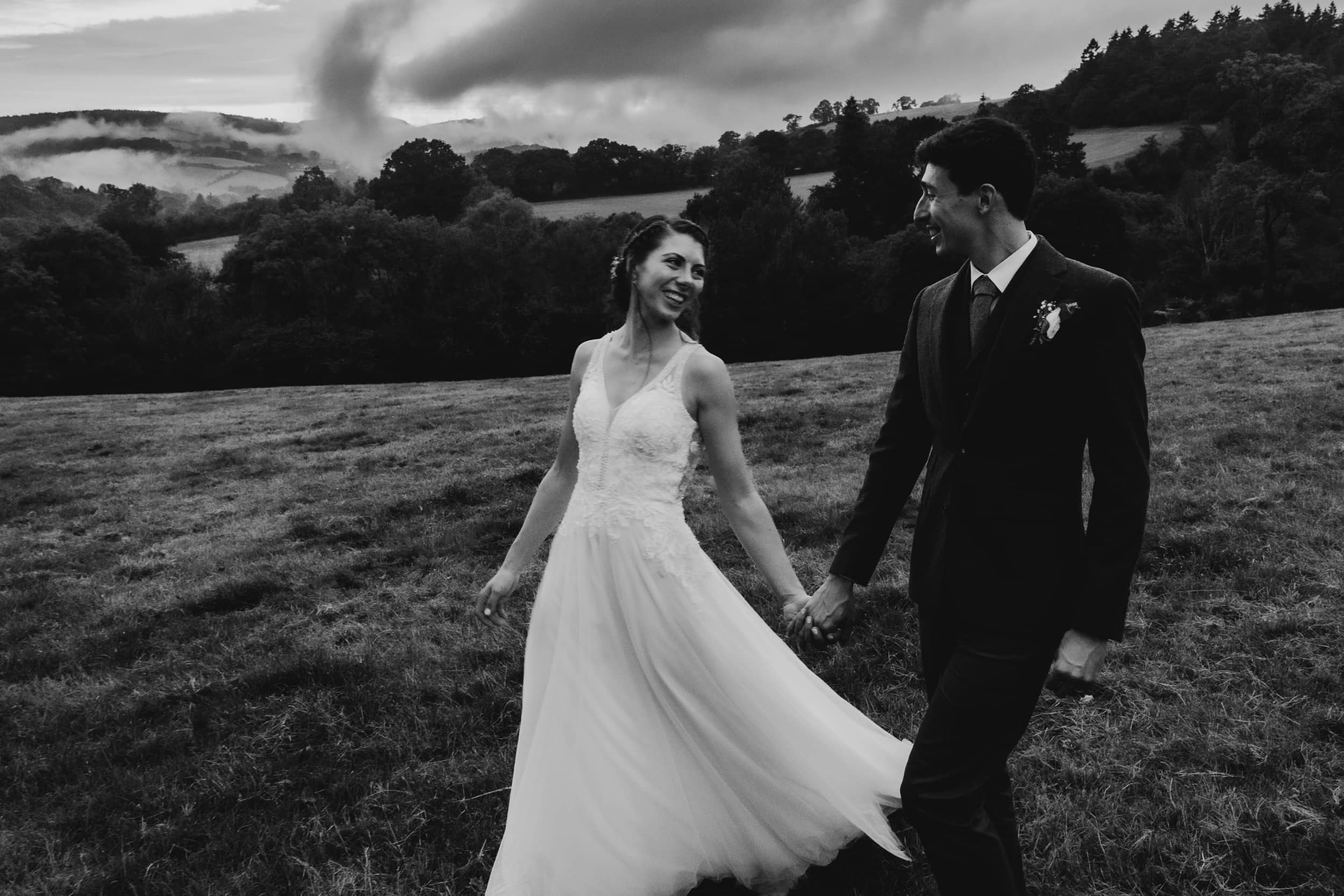 The bridesmaids wore gorgeous duck egg blue dresses and the sweet flower girl wore a pretty white dress.
The wedding ceremony was held at St James Church in the pretty Devon village of Christow. This handsome Grade I listed medieval church is rich in history and very photogenic. Emma and her dad travelled there is style in a gorgeous Morris Minor van.
As soon as I got there, I caught up with Alex and his groom's party who were already welcoming guests. They looked very smart in their Moss Bros. three-piece herringbone suits with petrol blue trousers and brown brogue shoes. Effortlessly pulling off the smart but relaxed look that they were going for.
The flowers in the church were all arranged by Emma's mum who is a keen gardener and
knows her flowers. She went for white flowers with pastels and white sprays. They looked amazing.
After a lovely ceremony conducted by Rev Ruth Frampton there was a fun confetti moment outside and lots of congratulations and hugs before everybody headed to The Great Barn for the wedding reception. With Emma and Alex travelling in that gorgeous Morris Minor van.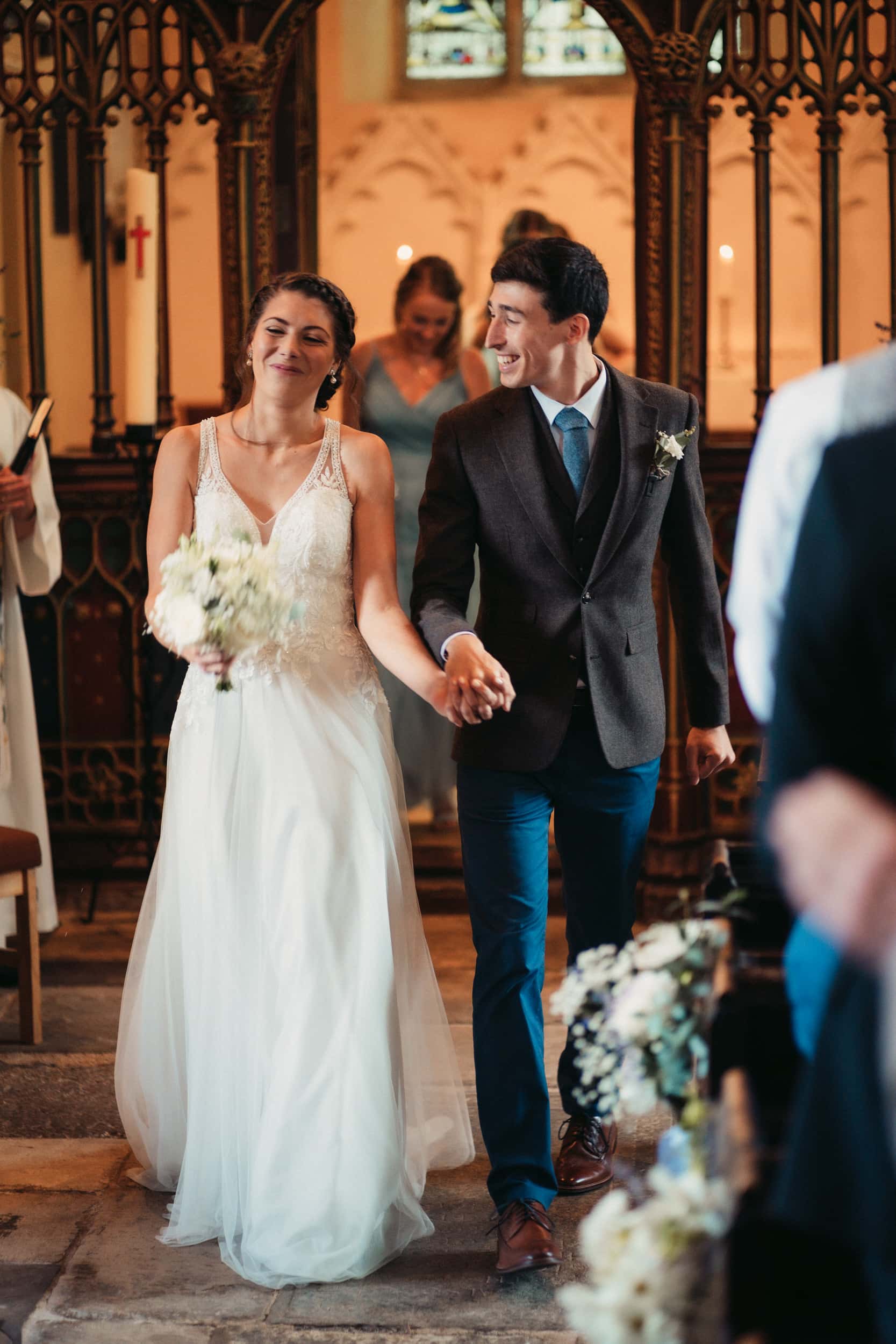 Now I get to talk about all the reasons why I love shooting wedding photography at The Great Barn. This idyllic private estate sits in 120 acres of beautiful Devon countryside. The Barn itself is a very handsome building with stone walls, a thatched roof and imposing oak doors, it manages to be both rustic and luxurious at the same time.
On arrival, everybody enjoyed a drinks reception in the Great Barn's picturesque gardens. I took some lovely natural candid images of guests mingling and soaking up the atmosphere. The lawn games proved to be fun, particularly the limbo pole, hook a duck and giant jenga.
I also got the chance to take some great images of the wedding party outside The Great Barn, the perfect spot for group shots. Whilst their guests happily chatted and played, I took the chance to whisk Emma and Alex away for a few minutes to get some romantic portrait images of them around the gardens and grounds of The Great Barn. I got some gorgeous images.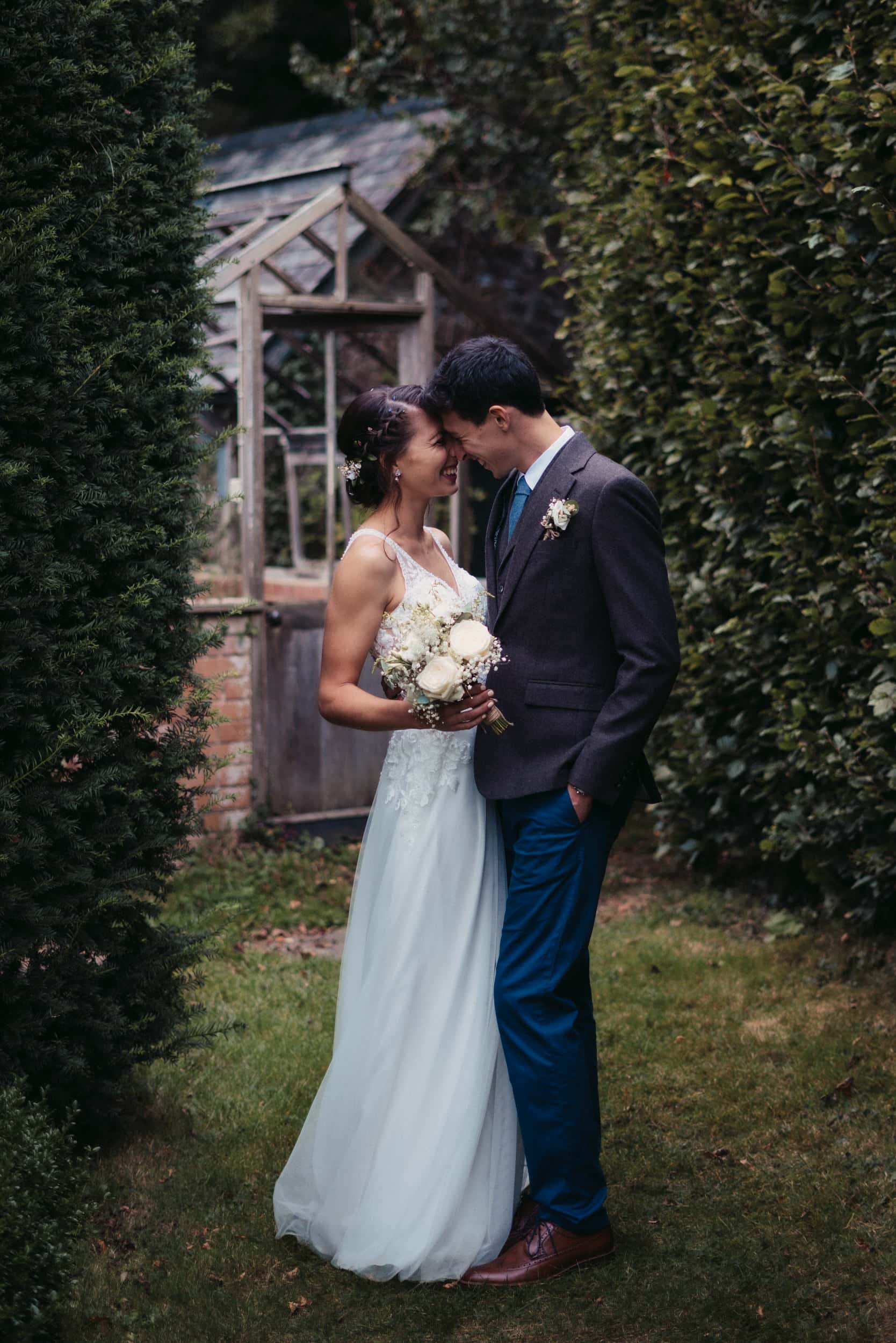 The wedding reception was held inside The Great Barn with tables dressed in white linen. The barn had been decorated in a rustic style by Emma and Alex with touches of wood, brown card and hessian that worked perfectly with the space. These guys upcycled an old suitcase for cards and used photos of themselves ages 0-10 for table numbers. There was a lovely sign with photos and candles for Emma and Alex to remember loved ones lost which was the perfect way for them to be made part of the day. I always love the little personal touches at weddings as it always tells me something of my couples' personalities.
Everybody enjoyed a sumptuous wedding breakfast that was served in a sociable sharing style. Emma and Alex love Italian food so the sharing platters of gorgeous locally sourced fresh food were ideal. After the meal, there were some very well received speeches.
Now I must mention the cake, it was the clever creation of Denise (Emma's dad's partner) and it was a triumph. Focusing on Emma and Alex's favourite drinks she made a three-tiered cake of limoncello, espresso martini and amaretto. It went down really well and there was very little of it left at the end of the day.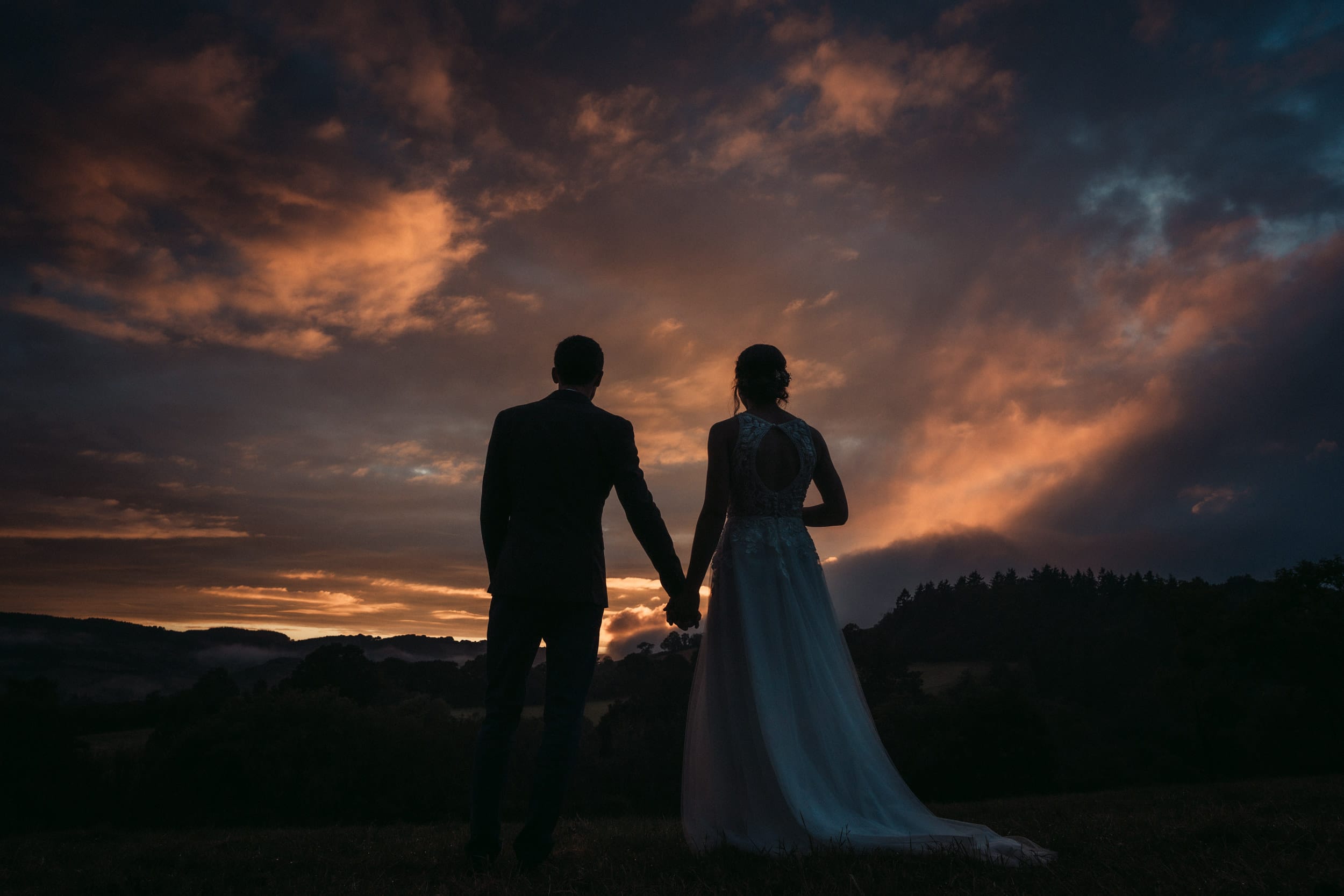 As the sun went down the outside space at The Great Barn was lit up with a festoon of lights and a firepit (with marshmallows for toasting!) creating a gorgeous ambience. Tasty evening food was provided by PizzaRova whose pizzas went down a storm with Emma and Alex's guests.
Evening celebrations started with the cutting of that gorgeous cake and a romantic first dance to the musical accompaniment provided by The Scene Band who worked their magic and made sure that the dancefloor stayed full all night.
A fun-filled, rustic, elegant and laidback wedding at a gorgeous Devon wedding venue. Congratulations to Emma and Alex for getting married and creating such an amazing day. I hope my images will enable you to relive again and again for many years to come.
I'll leave the last words to Emma and Alex, here's what they had to say about working with me.
"We would 100% recommend Patrick and Wildly in Love. As someone awkward in front of a camera at the best of times, Patrick made us feel comfortable and somehow managed to take some amazing photos which included me in them… Seriously though, Patrick had a great eye for a photo. It didn't feel overly posed which we wouldn't have wanted. He made sure to get all the classic shots but was also really busy capturing the feel of the day. He spent a long time with us on the day and worked really hard to make sure we have memories forever. We cannot thank you enough Patrick."
Want to book Patrick for your Wedding? Please hit the button below to get in touch.
Contact & Bookings