The average wedding produces one-third of a metric tonne of solid waste and in the UK 14.5 tonnes of carbon dioxide. Brides spend thousands on a dress they wear once, made from fibres that damage the earth and there is a huge environmental impact caused by posting hundreds of invitations through the mail.
Let's not forget that in all honesty, it would be pretty difficult to plan a perfectly ethical wedding, and the thought can be completely overwhelming but the fact you are here reading this means you are more pensive than most and just choosing a few of the suggestions can go a long way to helping our planet and your conscience!
Here are 10 ways to help the planet when planning your big day whilst still enabling you to have the time of your life!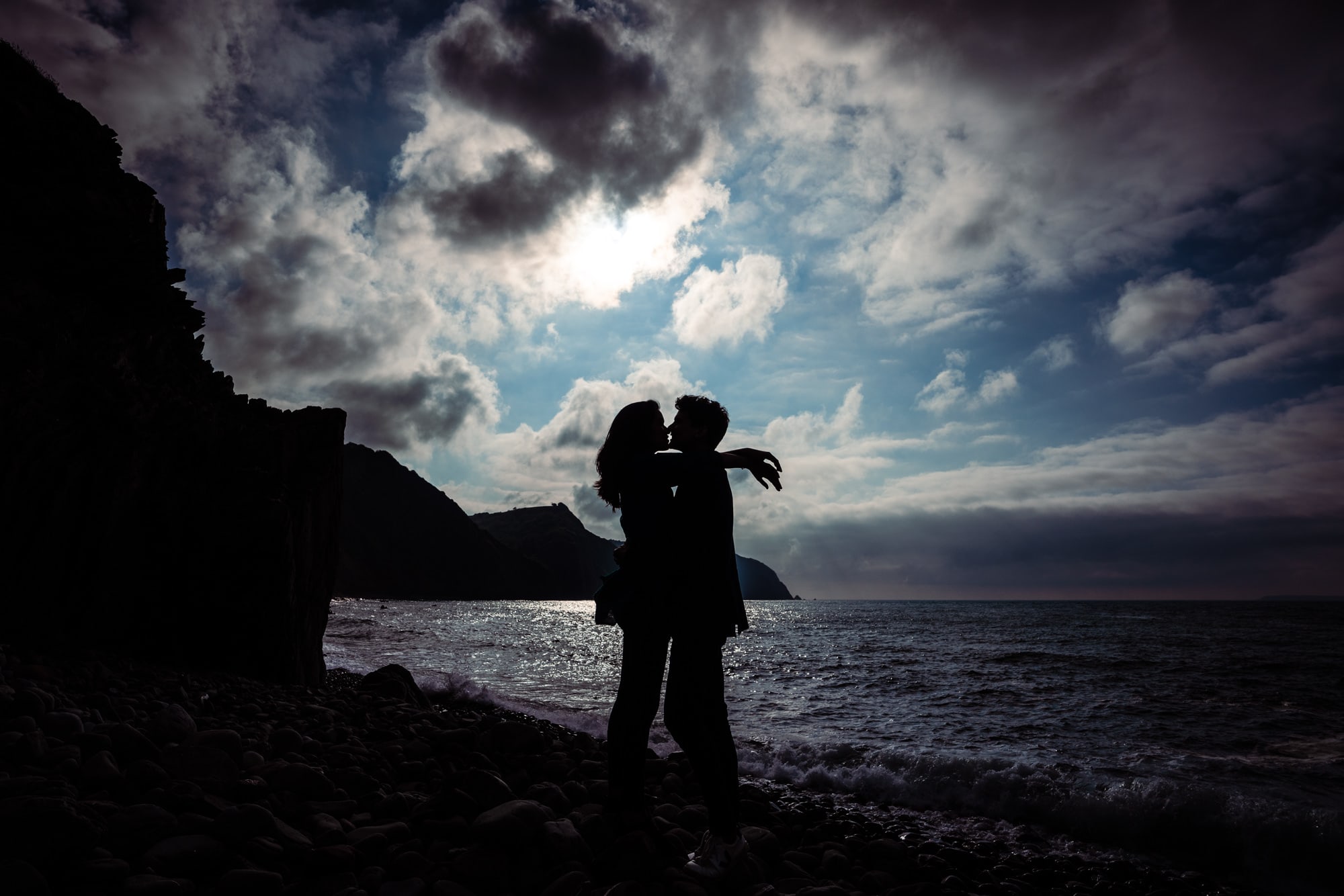 1. Eco-friendly venues
You've just got engaged and you fancy making your wedding a little greener than most. Have you thought of finding an eco-friendly venue to host your big day? Look out for woodland settings, nature reserves with wildflowers, water, wildlife and peace! A few of our favourite eco wedding venues where you can really enjoy our planet include GreenAcres Weddings, West Lexham and Kudhva!
2. Travel
Let's not forget that one of the big environmental impacts of weddings is the carbon produced from guest travel. Therefore, if you're able to find a venue that is relatively central for the majority of your guests you'd be doing everyone, better still arrange group transport so guests can leave their cars behind and have a blast without worrying about having to drive home!
3. Invitations
Is it really necessary to print hundreds of invites, that get sent in the mail only for guests to lose in piles of paperwork and bin after the big event? Get creative with an online invitation, www.paperlesspost.com or set up a website specifically for your wedding. Not only can you include the basic time and place but also the plan of the day so people know what to expect when they arrive. Guests always complain if they have to wait so long for food so letting them know when you expect to serve nibbles can help if they want to bring their own snacks! Nowadays you can add many more things; a story about how you met, your engagement shoot photos, accommodation, your gift list etc.
4. Eco-friendly hen/stag do
So, a couple of your favourite buds are planning to throw you an awesome hen/stag do. Although you do need to leave them to it to a degree so that it does end up a surprise, you could request that it is in the UK and as environmentally friendly as possible! The UK has plenty of incredible alternatives to crazy holidaying abroad needless to say you'll save your conscience from the guilt of using all that jet fuel! There are some awesome venues, don't even think about the miseries of camping cold and wet, camp in style a some of the UK's gorgeous glamping sites.
5. Wedding Dress
Like many clothes, wedding dresses have harmed the environment simply through being produced. Think about the following ways to fulfil an ethical approach in relation to your bridal dress;
Look for one of the many other options out there for gorgeous bridal frocks made from sustainable materials, like recycled polyester or natural materials.
If you would like to have a new wedding dress, choose a bespoke brand that design to order, where you can request certain materials and avoid waste or look for a company that is dedicated to being carbon neutral.
Wedding dresses do not have to cost the earth, do your research before throwing out the idea of an eco-friendly dress. H&M offer gorgeous wedding dresses in their sustainably sourced conscious range for less than £200 or if you do want to spend a greater amount on your dress, commit to a local company like Rolling in Roses who like to hand-make their gowns using ethically produced, sustainable fabrics.
Of course, you could also look into the option of second-hand dresses, many of which have been worn literally once and could be perfect for your big day! There are Facebook groups for pre-loved wedding dresses and let's not forget eBay for fabulous wedding bargains!
Don't forget that you can still be ethical after your big day too; re-wear, swap, resell, donate or recycle your wedding dress!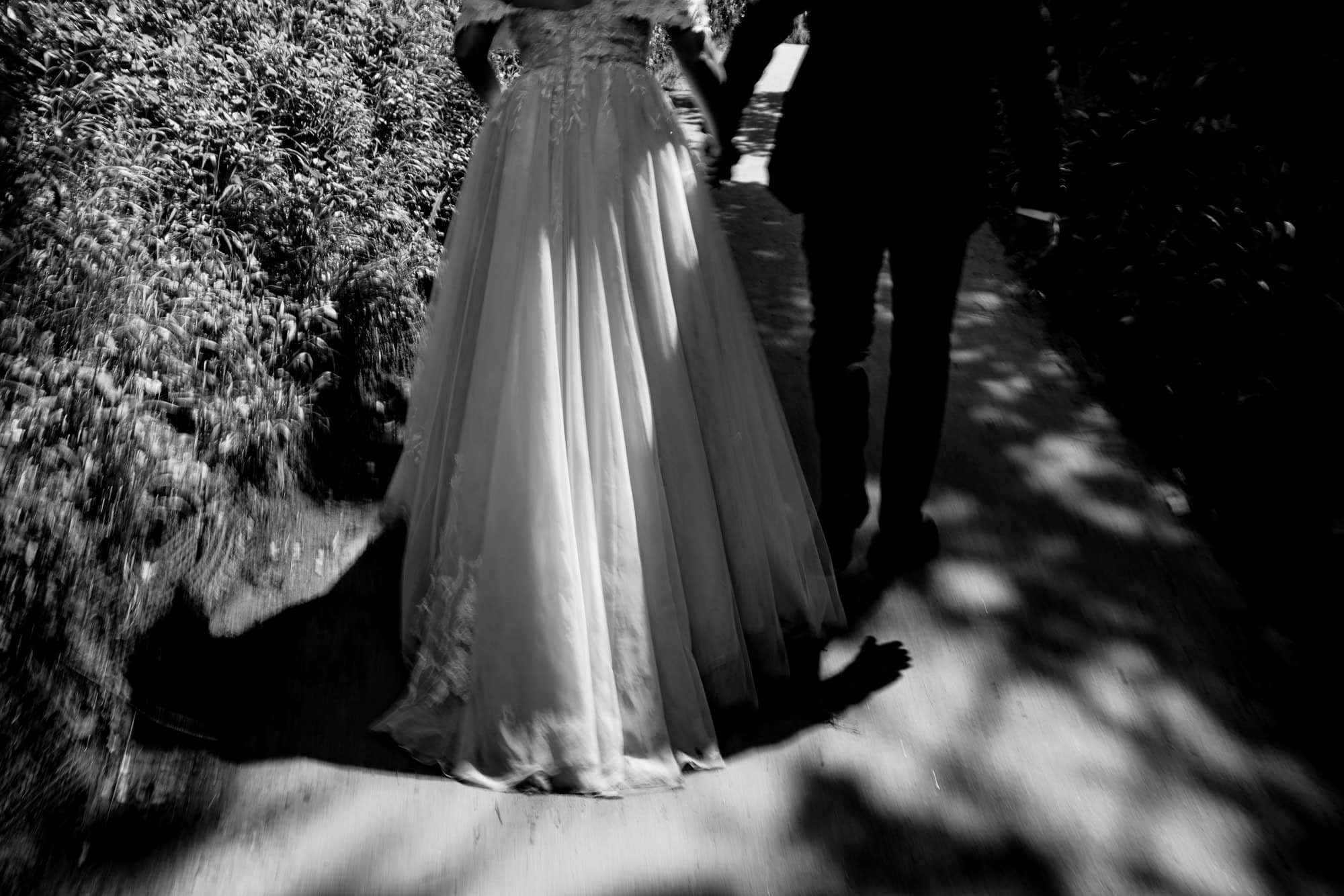 6. Catering
3.6 million tonnes of food is wasted by the food industry every year in the UK … with weddings contributing greatly to this. In 2017, a study by Sainsbury's suggested 10% of all wedding food ends up in the bin. So how can we help to reduce this?
It is a tricky balance between making sure your guests are well-fed without creating too much food you're going to harm the planet.
Try your best to 'grill your caterers'; are they eco-friendly or are they simply providing as much as they can in an attempt to please their bride and groom? Get in contact with projects like, The Real Junk Food Project who are challenging and highlighting food waste issues and can collect and stop your perfectly tasty food from going to waste. If this does not work for you, ask guests to fill takeaway boxes to their heart's content or ask the venue staff to enjoy what is left.
Chuck the buffet idea, not only is it expensive but also responsible for a lot of food waste. Plating food or serving guests will help to reduce this waste without the need of monitoring and refilling the buffet plates. Use biodegradable or compostable plates, not only does it save the environment plus paying people to wash up but it's so much quicker at the end to whip around collecting everything to chuck on the compost!
7. Eco-friendly menu
Whilst we're on the topic of food, think about your menu! Try to source your foods locally or choose caterers with a sustainable ethos! A vegan or vegetarian menu would reduce the environmental impact even further but if you go that way the food has to be top-notch, we don't want to go upsetting the guests! Using local wineries, distilleries and breweries for your beverages, both alcoholic and non-alcoholic would also be a great way to reduce your carbon footprint and help local businesses!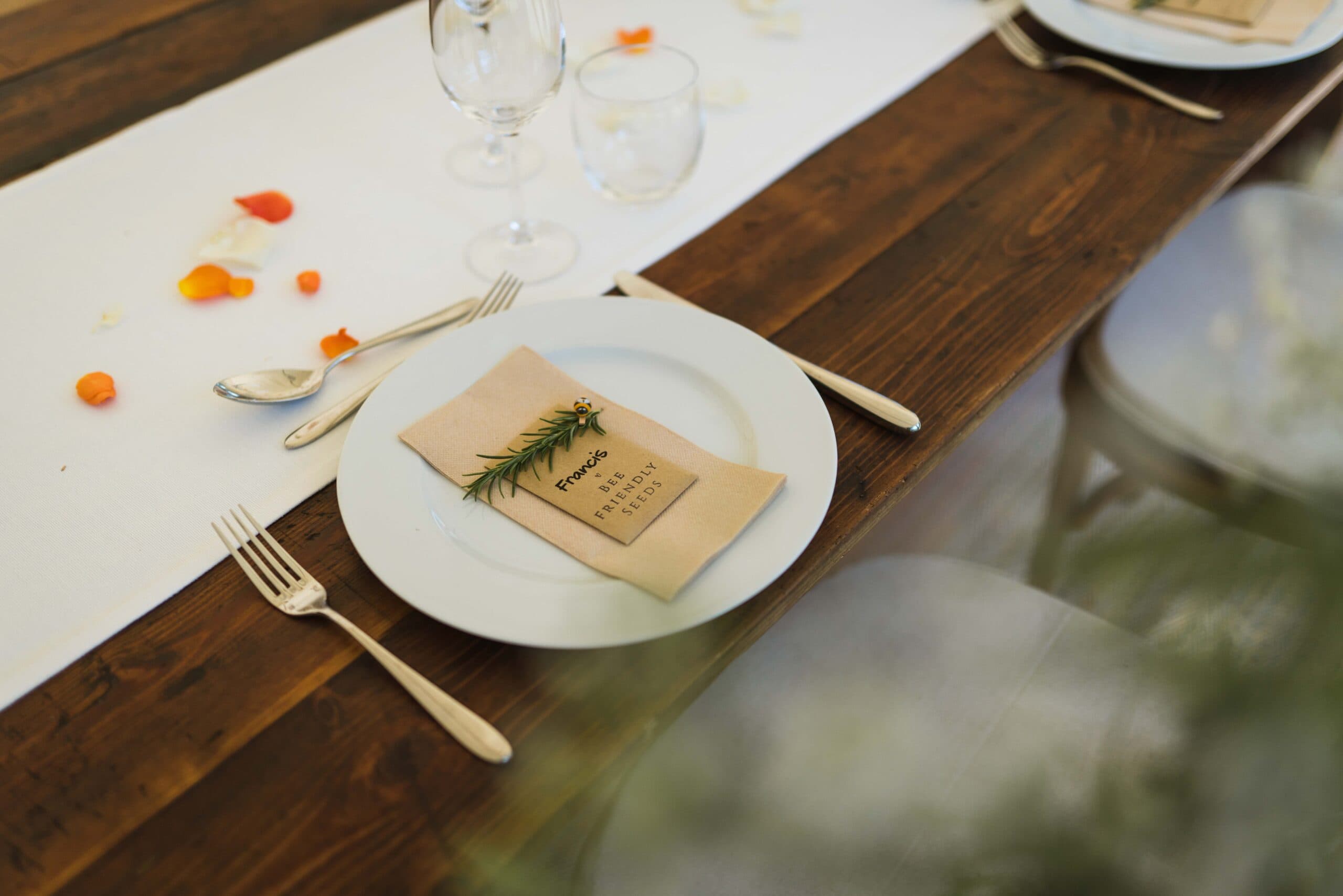 8. Flowers and all things floral
Many ecowarriors would suggest you forget the cut flowers and swap them out for potted plants or herbs, however, we all know flowers are a big part of the day and it would be hard to forgo them completely! Talk to your florist and see what they can offer you in terms of living plants or locally grown flowers. If you must have a cut bouquet for you and every one of your 10 bridesmaids, try to think about where they could go after the big day, maybe an elderly people home, hospice or hospital to bring joy to others too.
9. Confetti
Yep, this gets its very own paragraph because it is so very damaging to the environment. Everyone loves a good confetti throw, a photo capturing the bride and groom cowering from the bits flying debris… but sadly not all confetti is created equal. Glitter is a big no-no, and even some 'eco-friendly' labelled confetti is questionable. Whilst it is hard to control what your guests will bring, you could let them know that there is no need to bring any, and make your own. The best is from flowers, seeds and herbs. Not only does it look super cute, but the smell is also incredible too!!
10. Gifts that keep on giving
With gifts coming in for the wedded couple, table centrepieces and wedding favours to present to the guests, it's so easy to be brash and wasteful. We love the thought of couples asking for charity donations instead of gifts. There are many charities that, for a donation, will provide various unique wedding guest gifts such as place cards, key rings, satin hearts, local jams and chutneys, trolley coins and pins. Not only are there many health charities you could help but also many environmental ones who could use your support, including Greenpeace, Friends of the Earth and Sierra Club. Another idea is to gift seeds for guests to plant or donate to plant-for-the-planet.org so a tree can be planted for each of your guests! What a way to help the planet!
See how we as a business contribute to looking after our beautiful planet here!