Luke and Kate's wedding at the Honourable Society of Lincoln's Inn, London
The sun shone all day for Kate and Luke's gorgeous winter wedding in London. I loved capturing wedding photography at Lincoln's Inn. This magnificent eleven-acre enclave with beautifully maintained gardens and old legal London architecture was the perfect location for a winter wedding in London. But I'll get back to all the reasons why I love capturing Lincoln's Inn wedding photography in a minute. Let's start at the beginning of Kate and Luke's day.
Kate looked amazing in her satin princess cut dress she bought at Jodi Bridal Boutique. It gave her the most exquisite silhouette in all of my images of her. The fairy-tale style of the dress really suited the grandeur of the wedding and worked perfectly with Luke and the groom's party who looked very smart in traditional black tie.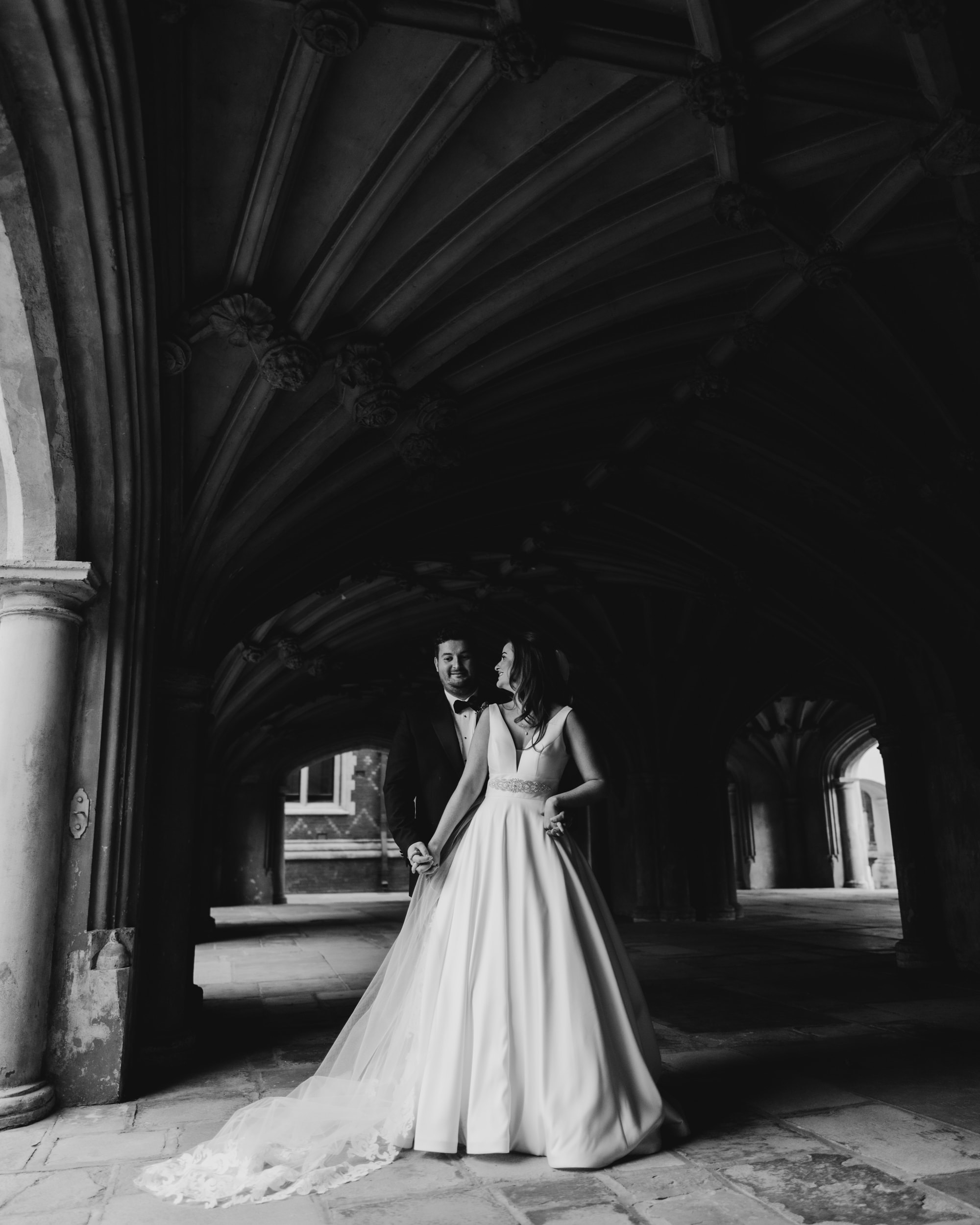 Luke is a barrister so is attached to Lincoln Inn professionally, which is how the pair were allowed to marry there. Though they had to get a special marriage license from the Arch Bishop of Canterbury no less.
Storytelling wedding photography at Lincoln's Inn
The ceremony was held in the magnificent Great Hall which was opened in 1845 by Queen Victoria. Its awe-inspiring elevated ceiling, stunning stained-glass windows and vast fresco by the renowned artist G F Watts made a breath-taking backdrop in all of my images and a magical setting for a wedding. Especially in winter, lit with sparkling lights and candles it had a magical Harry Potter vibe about it that totally blew Kate, Luke, their guests and this London wedding photographer away!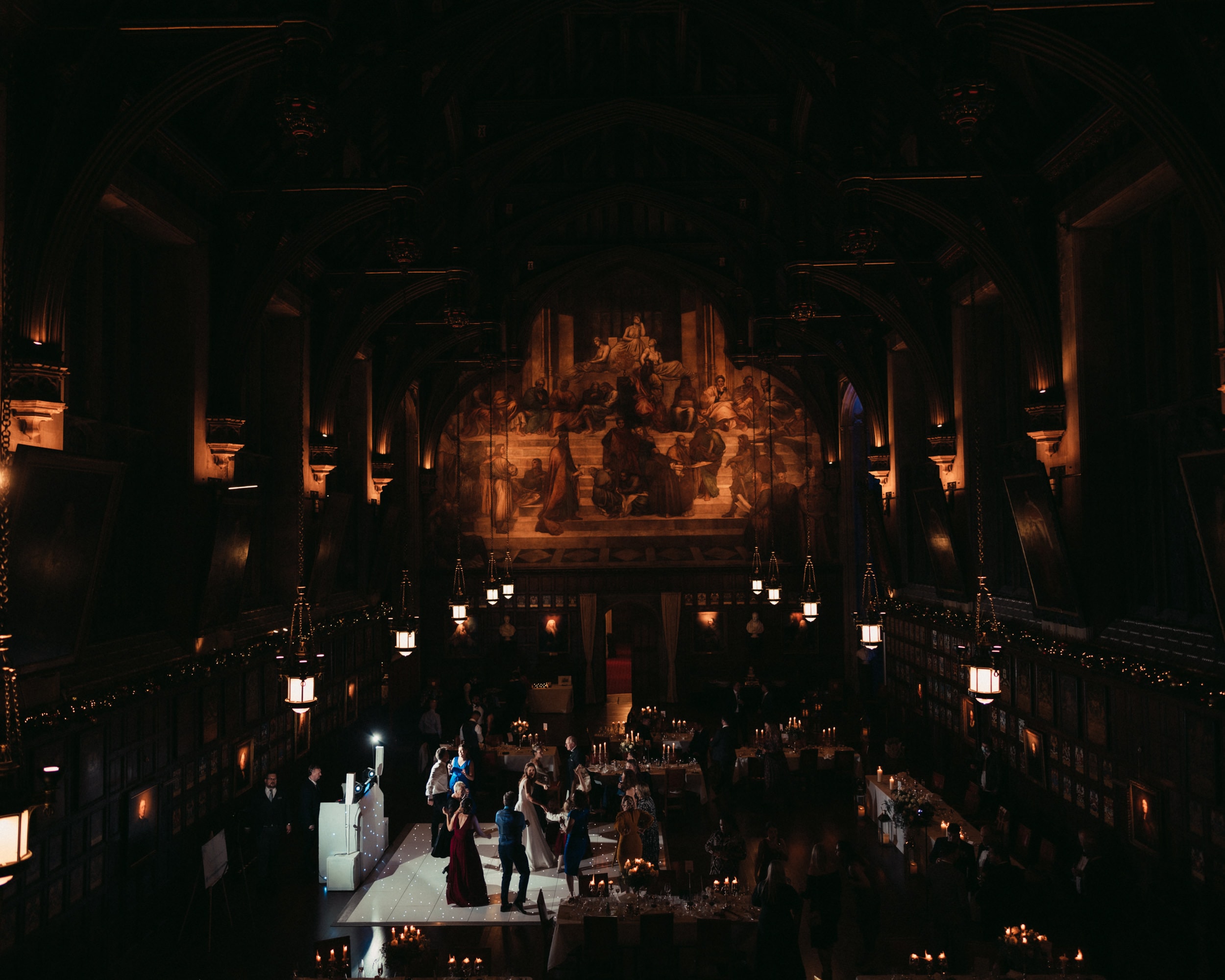 Now there was a member of the wedding party I haven't mentioned yet and that was Missy, Kate and Luke's adorable border collie who had the important role of bringing the rings. She took her responsibilities very seriously and came bowling down the aisle with the rings clearly thrilled to be part of the day! I love dogs at weddings as they always show me something of my couple's personalities.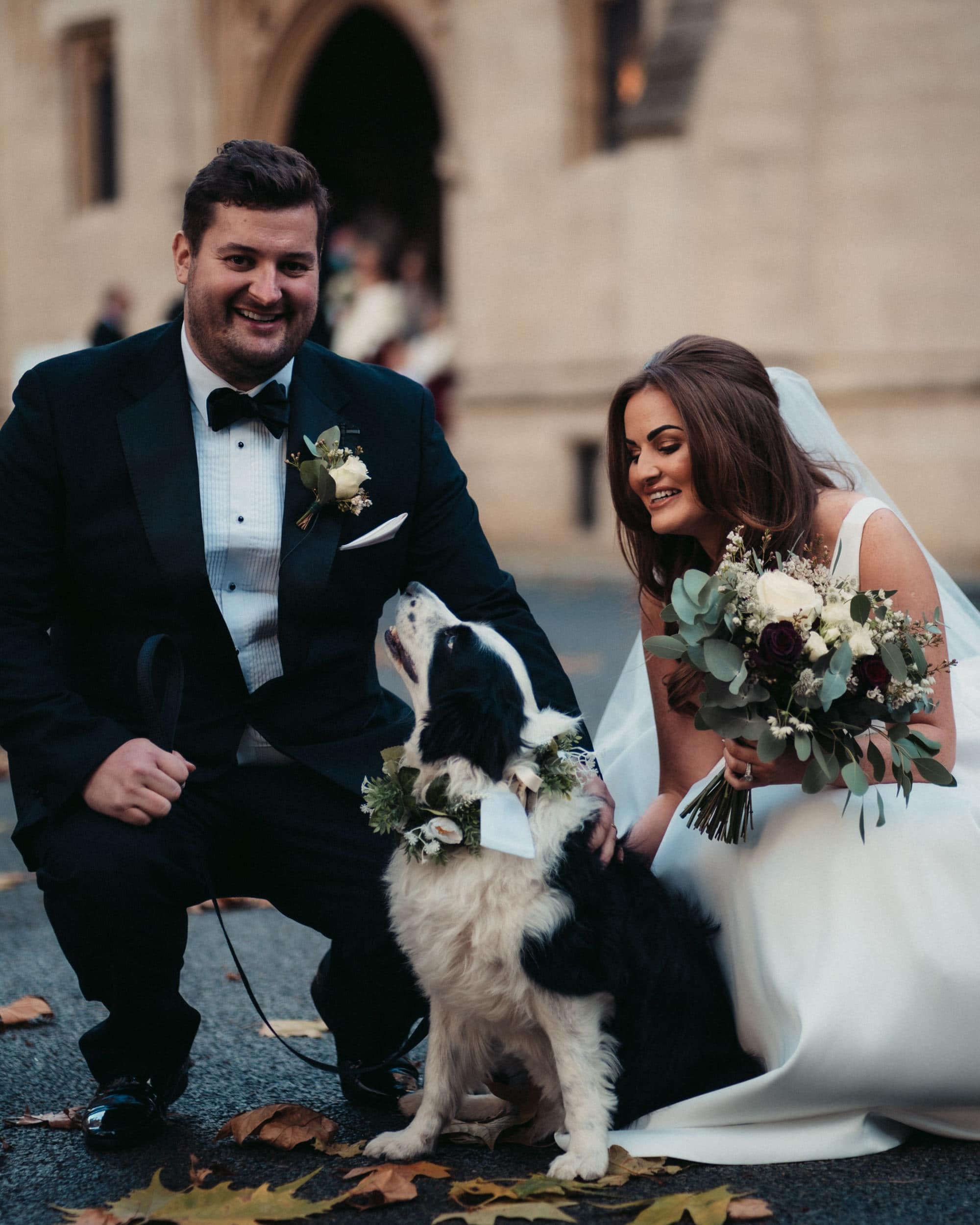 The wedding ceremony also included a performance by the CK Gospel Choir, who sang from the minstrels' gallery. It was amazing – a real goosebumps moment!
Creative and natural Lincoln's Inn wedding photography
The flowers at Kate and Luke's wedding were amazing and were the clever creation of florist wholesaler Smith and Green, a family friend of Kate's who provides flowers for royal weddings. The florist who assembled them was the very talented Khin from the flower factory. After the wedding, Kate had them sent off to be preserved so they can be an amazing keepsake of the day.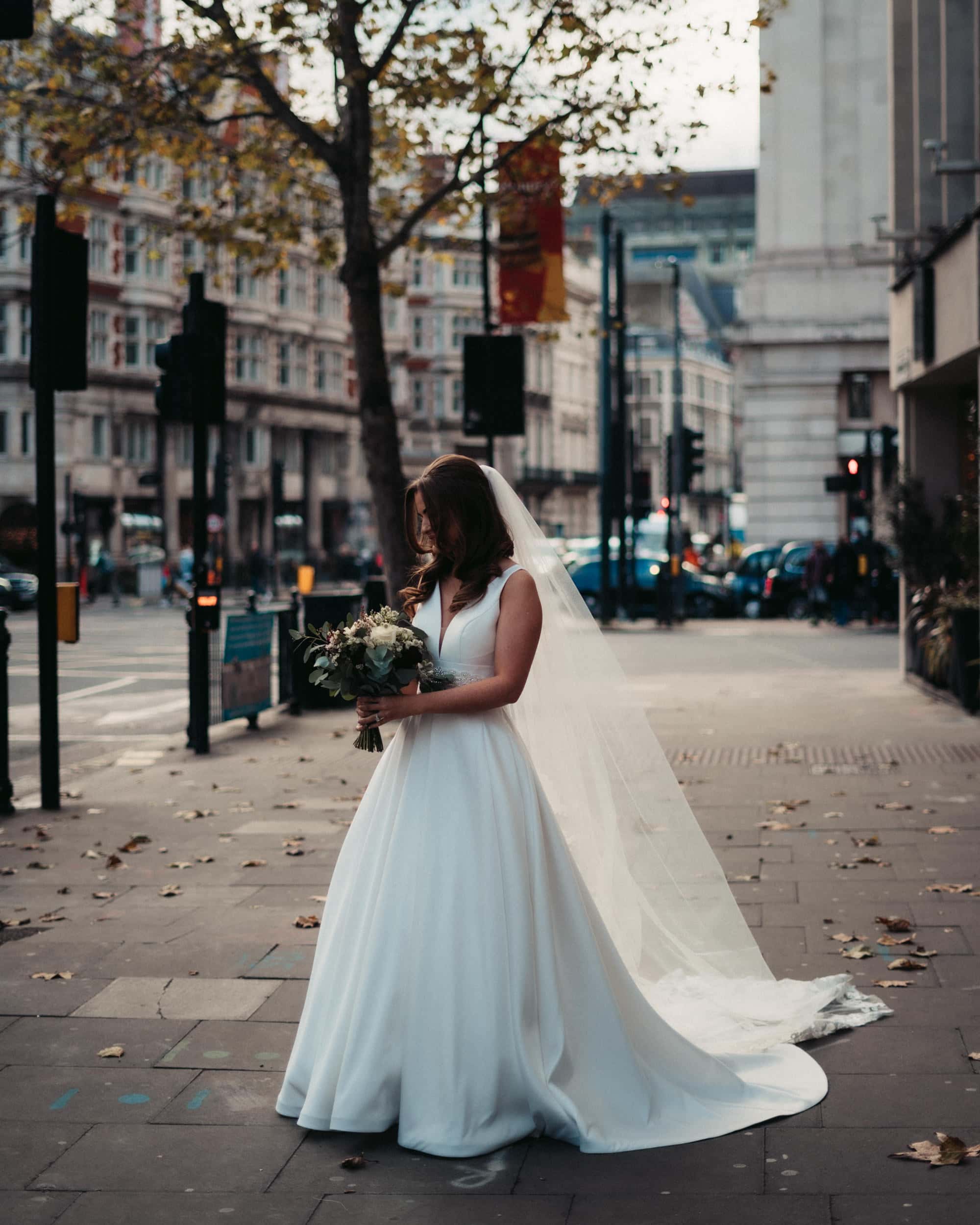 After the ceremony as guests happily enjoyed reception drinks and chatted and mingled, I quickly whisked Kate and Luke outside to capture some romantic portrait images of them. The late afternoon sunshine gave a low romantic soft lighting that helped me to create some really atmospheric and romantic images of them.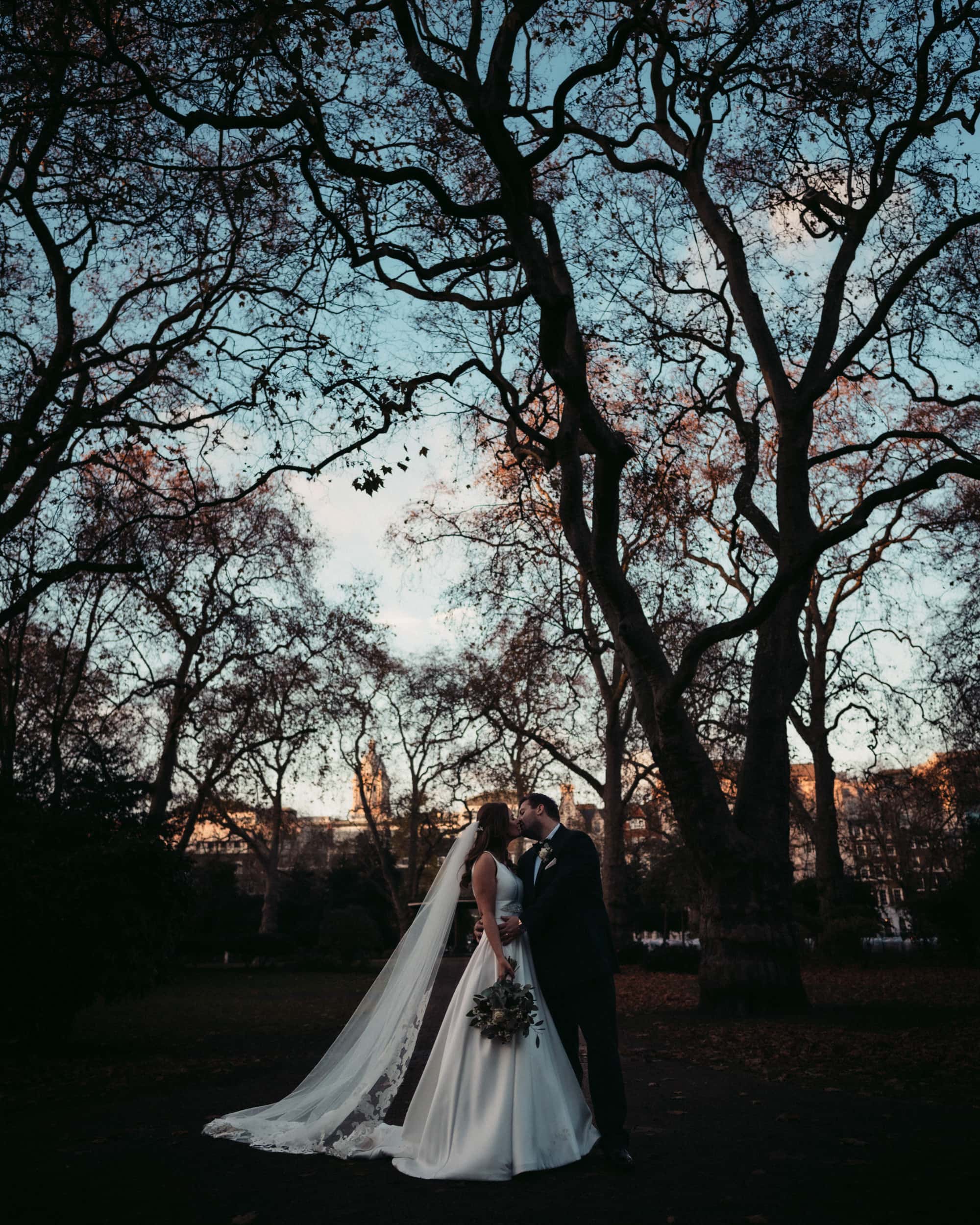 We then headed back inside for a delicious bespoke wedding breakfast which had been created by Lincoln Inn's talented chefs in consultation with Kate and Luke. It went down really well as did the musical accompaniment of a string quartet playing pop songs.
Experienced Lincoln's Inn wedding photographer
Evening celebrations started with the cutting of the most elegant four-tiered wedding cake that had been made by a family friend who runs a successful cake business Sweet Creations. I loved the cake pops around the cake! But that wasn't the only cake, Luke and Kate also had a cake of cheese that had a 5kg pork pie as its base tier. A delightful quirk!
Evening dancing started with a romantic first dance on The Great Hall's gorgeous starlit dancefloor and I captured some beautiful images of the moment.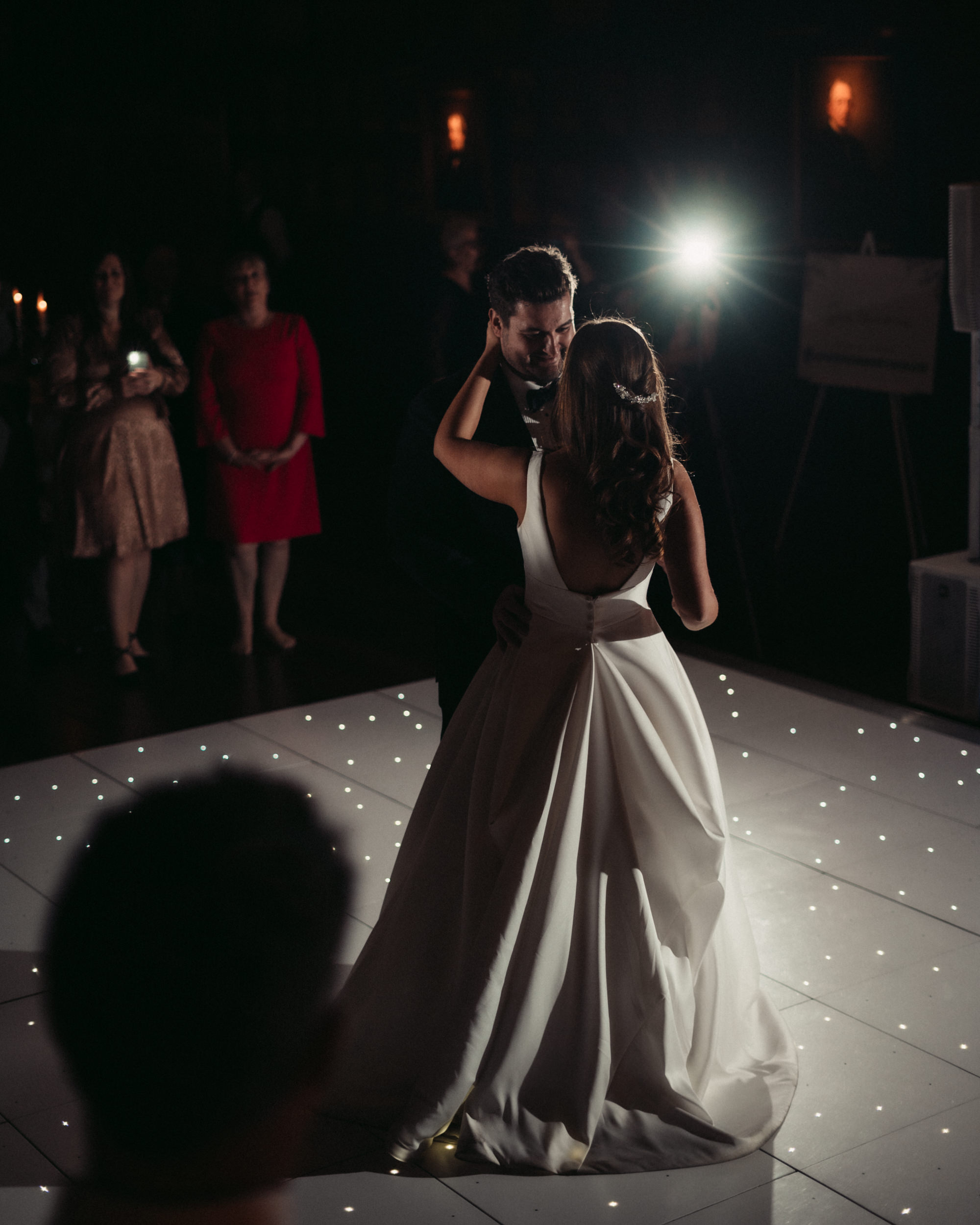 These guys weren't alone on the dancefloor for long. Kate and Luke's guests were really up for a party and with many of them being NHS professionals who had worked tirelessly through the pandemic, they were certainly due a chance to let their hair down. And I'm pleased to report they went for it! The CK Gospel Choir made their second performance of the day followed by WeRDJs who saw that the dancefloor remained full all night.
A wonderful winter wedding in London at an awe-inspiring venue for this lovely pair. Congratulations to Kate and Luke for getting married and thank you for allowing me to tell the story of it. I'll leave the last words to Kate and Luke, here's what they had to say about working with me.
"Patrick was amazing, he was always there without being obviously there! He took amazing natural shots and took all my requests into consideration. We couldn't recommend him highly enough!

Luke & Kate
Want to book Patrick for your Wedding? Please hit the button below to get in touch.
Contact & Bookings
Want to book Patrick for your Wedding? Please hit the button below to get in touch.
Contact & Bookings