Tunnels Beaches Wedding photographer – Amy and Nelly
As a busy Devon wedding photographer, I get to work at all the best wedding venues in Devon and this is certainly the case when I return to shoot wedding photography at Tunnels Beaches. This uniquely designed coastal wedding venue was the perfect location for Amy and Nelly's wedding. But I'm getting ahead of myself. I'll get back to all the reasons why I love shooting wedding photography at Tunnels Beaches in a minute. Let's start at the beginning of Amy and Nelly's amazing wedding day.
I managed to catch up with both the bride and the groom's parties as they got ready. Both were very excited and there was some bubbly on hand to settle any last-minute nerves/get the party started!
All 100 guests had travelled down from Essex to Devon for the wedding, and after three lockdowns were definitely ready for a celebration. The atmosphere was amazing all day.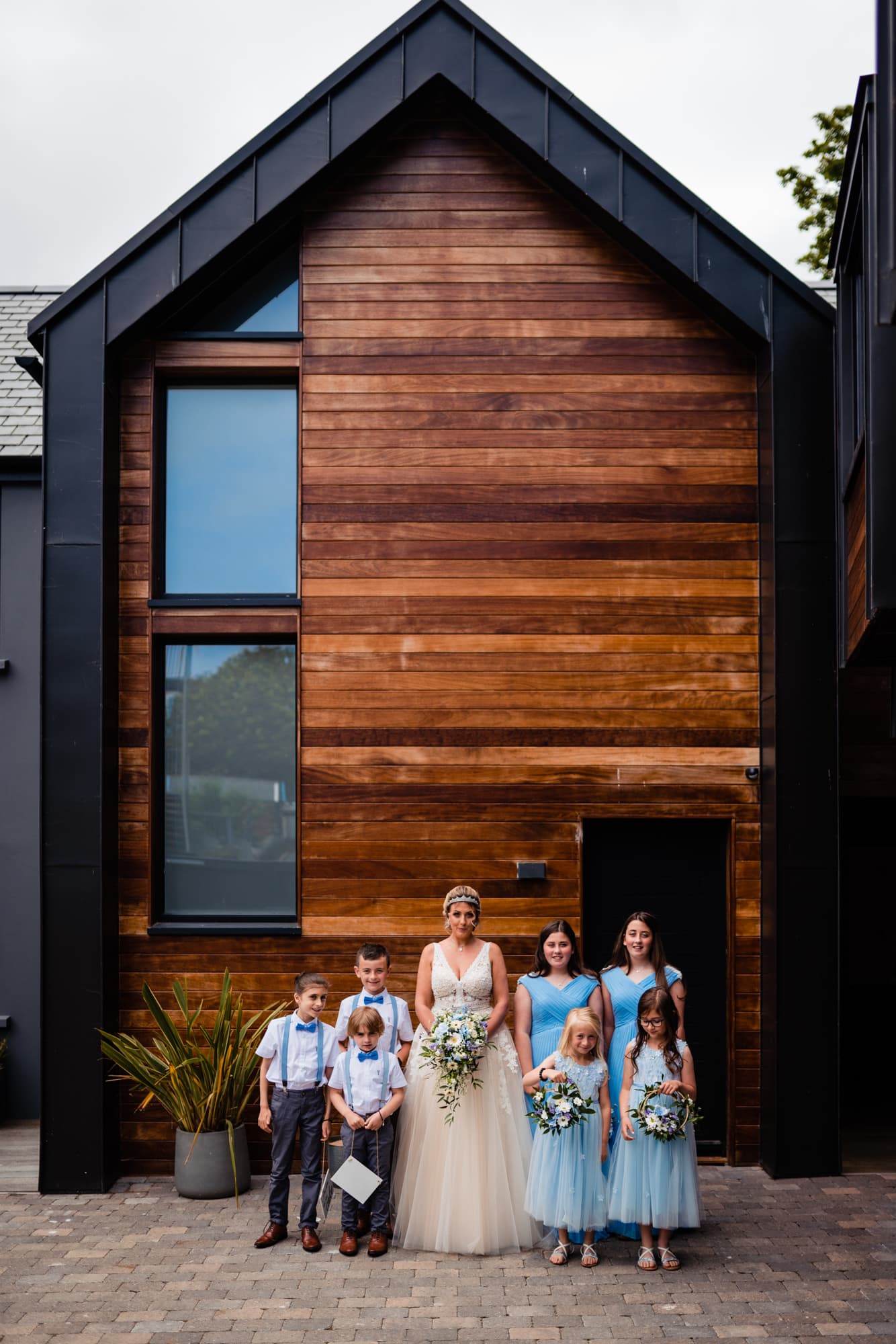 Creative wedding photography at Tunnels Beaches
Amy looked stunning in her champagne coloured Enzoani dress that had the most beautiful lace detail on the bodice and a full skirt of chiffon layers giving her a fairy-tale look and an exquisite silhouette in all of my images. Her bouquet was baby blue and white with foliage and her bridesmaids and flower girls wore gorgeous baby blue dresses.
I don't want to miss Nelly and the boys out so can confirm that they looked very smart in petrol blue three-piece suits teamed with classic brown brogues. Very stylish, though possibly outdone by the three adorable page boys.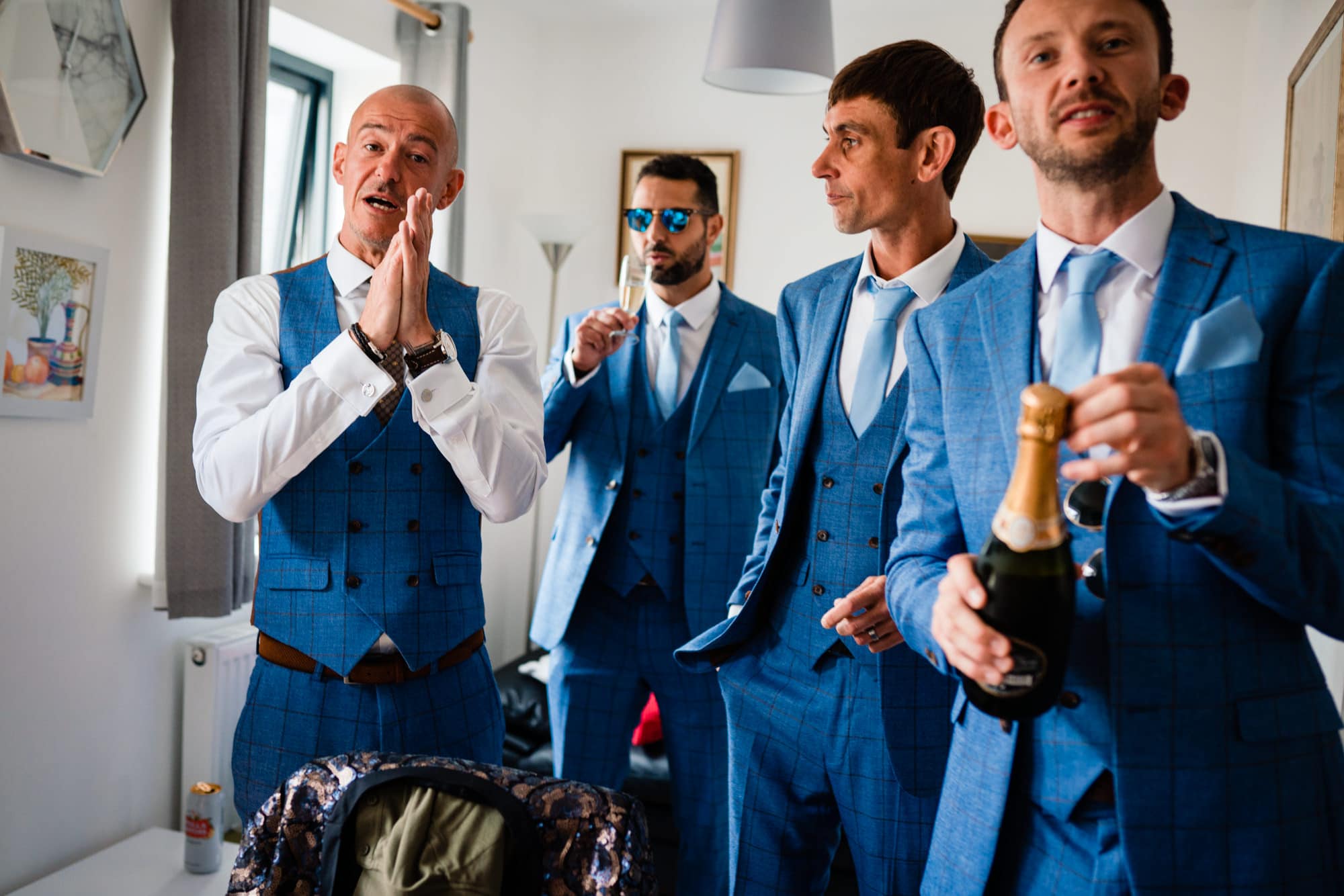 The ceremony was held outside on the impressive terrace in a thatched gazebo overlooking the sea. The perfect setting for a beach wedding ceremony in Devon. After the ceremony, there was a fun confetti moment that I captured before we headed onto Tunnels Beaches private beach (not many wedding venues in Devon can boast their own private beach!) for some portrait and group images.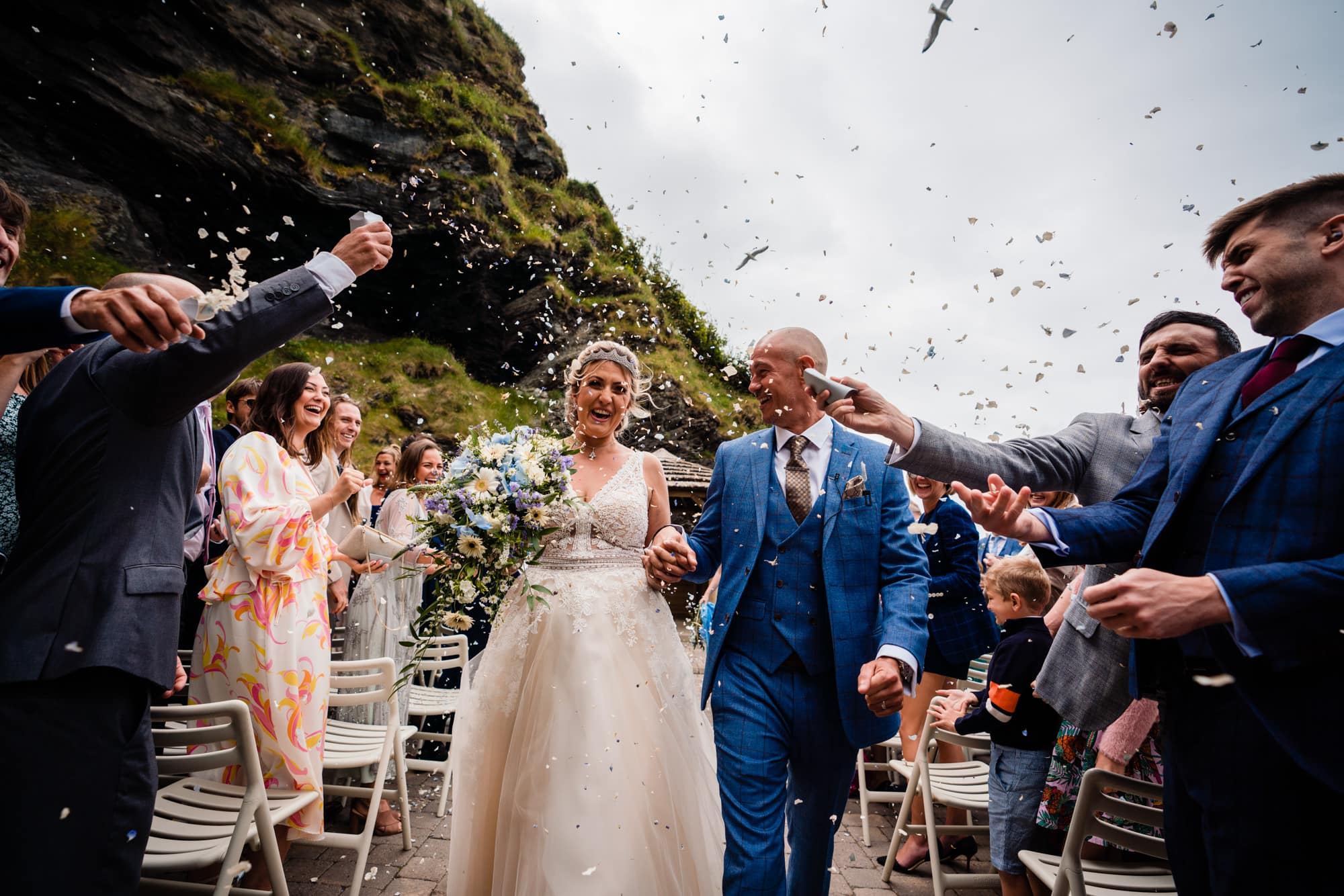 The weather was overcast with a moody sky which worked really well with the rugged coastline. The drama of the setting added a really romantic and wild feel to the images that I know Amy and Nelly loved. People think that you need blue skies and sunshine in wedding photos but using whatever nature throws at you to your advantage, is how you get the most authentic images.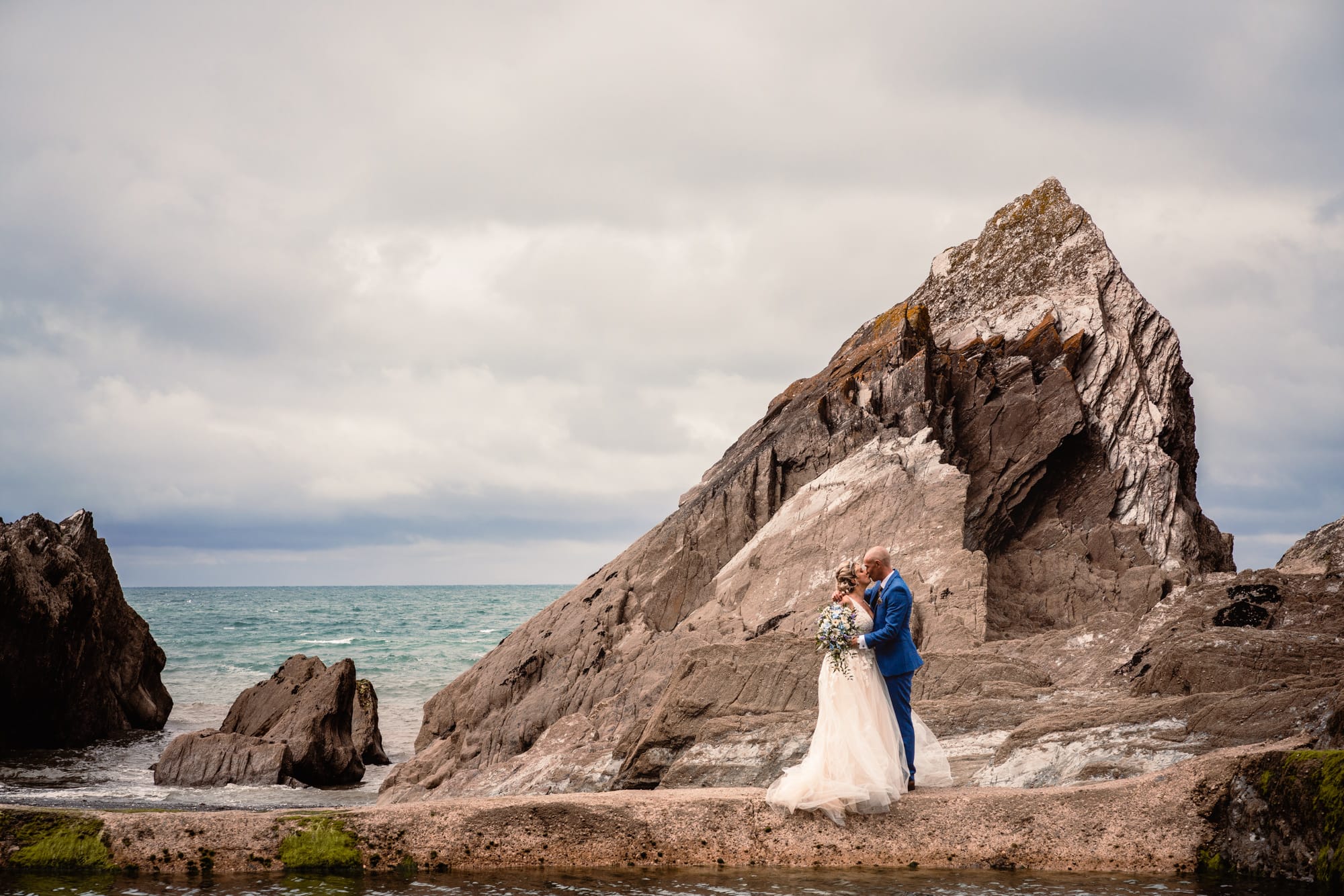 Now, I love quirks at weddings as they tell me something of my couple's personalities. At Amy and Nelly's wedding, it was the fantastic two-tier baby blue and white wedding cake. It had a mini cow and elephant toppers. A cow as Amy's surname was Hepher, and the elephant for Nelly (the elephant).
Local and experienced Tunnels Beaches wedding photographer
I totally loved the food at Amy and Nelly's wedding. They opted for a BBQ and the array of meat, fish and side dishes looked (and tasted!) delicious. It was the perfect choice for their laid back yet stylish wedding.
These guys were taking no chances with entertainment. There was caricaturist Luke Warn and magician Tom Rose to entertain guests. It was clear that Amy had planned the wedding with her guests in mind. I loved the kid's table with Lego and activity books.
The evening entertainment started with an exciting first dance that was fun to capture.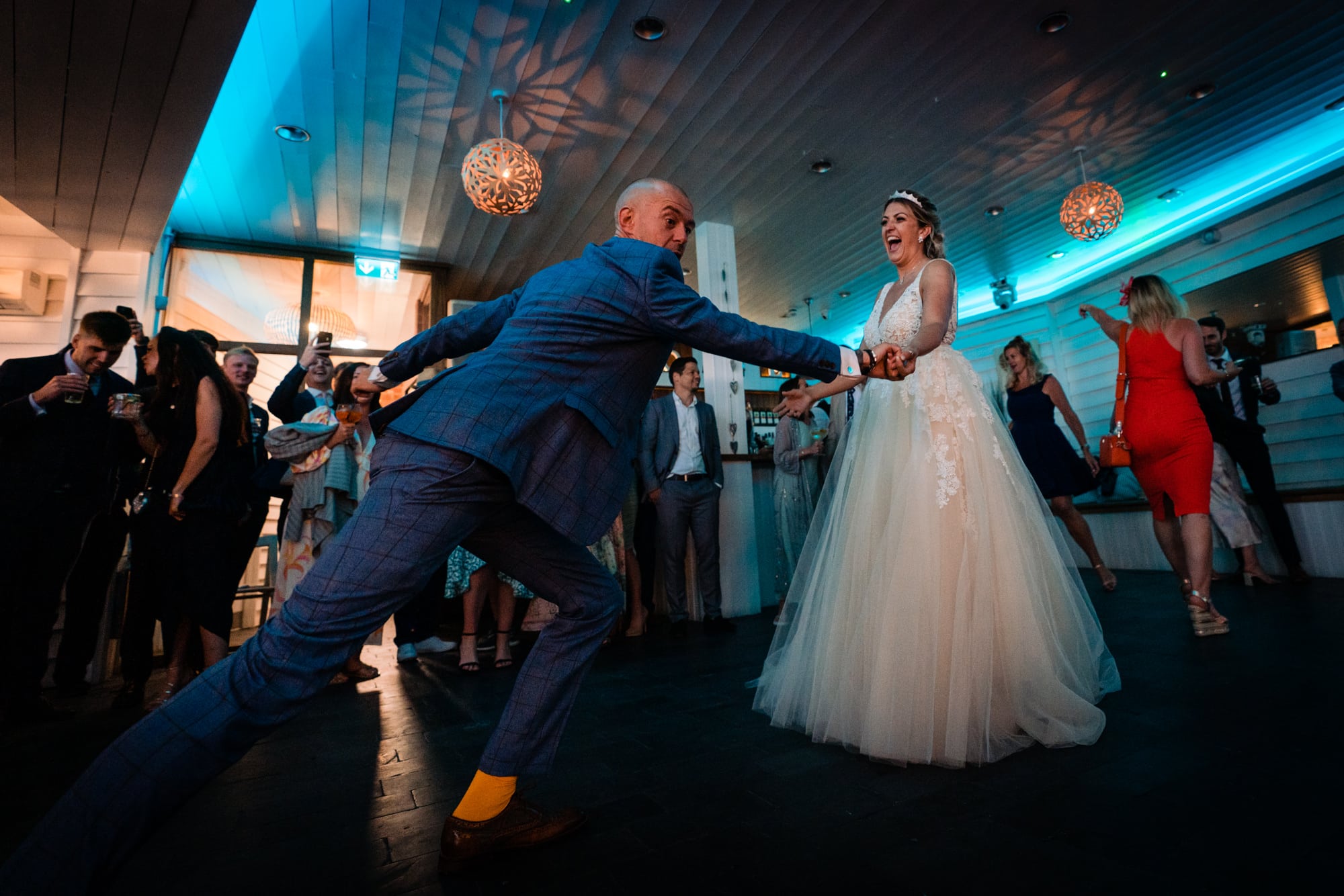 Music was provided by the wedding band 'The Burning Shoes' who had everybody on the dancefloor with their mix of soul and Motown classics. Later, DJ Tom Webb picked up the baton and made sure the dancefloor stayed full for the rest of the night. Not that Amy and Nelly's guests needed much coaxing. These guys were definitely up for a party!
A gorgeous, fun, family-friendly wedding full of love and laughter at a beautiful Devon wedding venue. Congratulations to Amy and Nelly for getting married and creating an amazing wedding day for you, your family and your friends to remember. I hope my images will help you to relive it again and again for many years to come.
Want to book Patrick for your Wedding? Please hit the button below to get in touch.
Contact & Bookings
Want to book Patrick for your Wedding? Please hit the button below to get in touch.
Contact & Bookings