Lauren and Conor's Wedding at Avebury
I'm so lucky to be a Wiltshire wedding photographer as I get to shooting wedding photography in Wiltshire and I get to work with lovely couples like Lauren and Connor.
On their wedding day, I arrived early so I could capture Lauren's bridal prep images. Lauren looked gorgeous in her floaty wedding dress that had beautiful sleeves and pretty lace detail. It was complemented with a stunning bouquet of dried flowers and with Lauren's curly hair loosely pinned she looked very natural and utterly comfortable as the bride.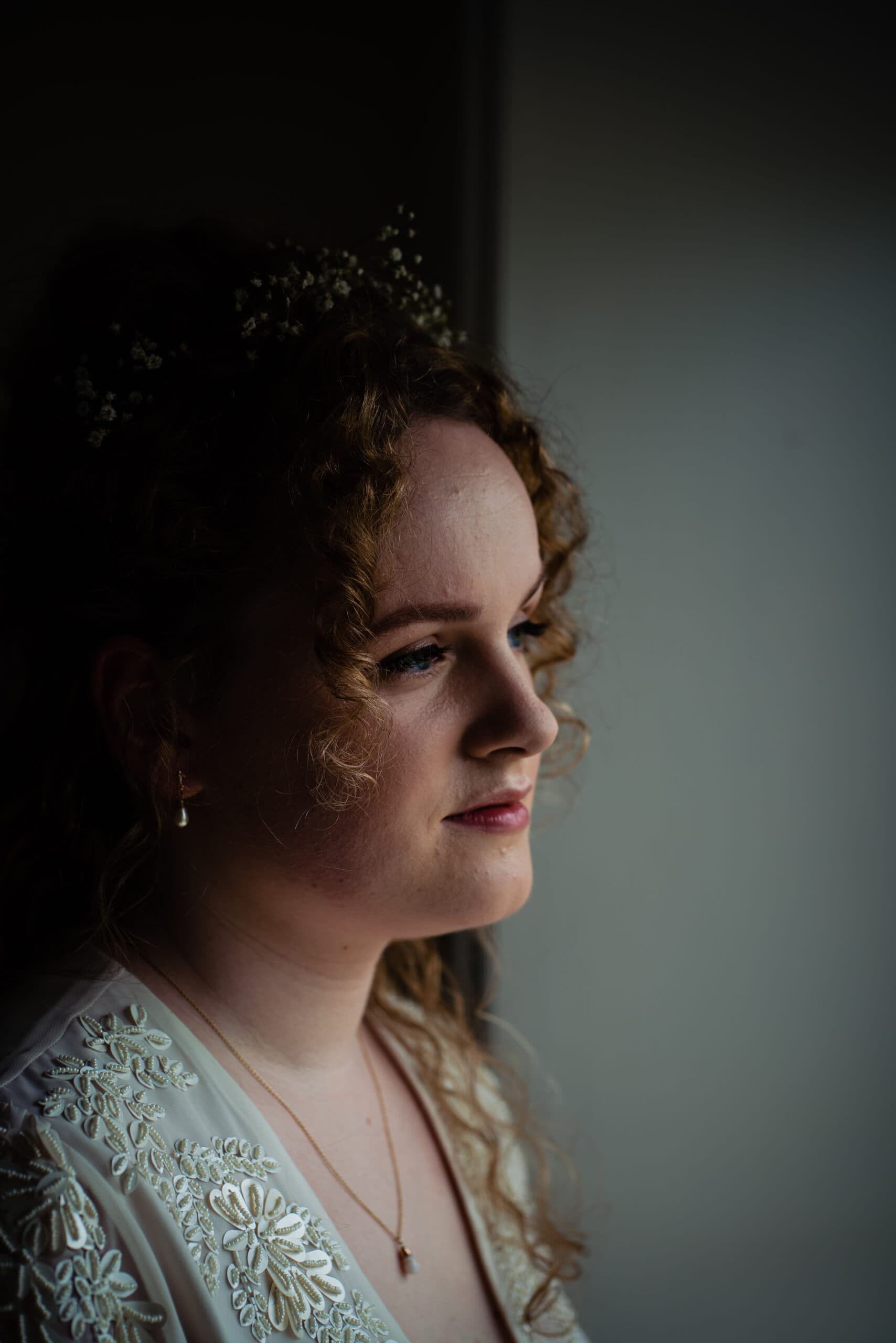 Now, without missing Connor out, he of course looked the part! I loved his stone-coloured suit with a grandad collar shirt. Lauren and Connor both grew up in the countryside and wanted their wedding to have a natural woodland feel. Rustically stylish and entirely authentic these two were a masterclass in perfecting the look they wanted.
The wedding ceremony was held in St James' Church in Avebury which is the village where Connor grew up. Lauren and Connor had worked with the reverend of this gorgeous medieval church to create a beautiful and personal wedding ceremony. I loved that Lauren walked to the church with her two bridesmaids. I always think that walking to your ceremony is always better than faffing about with cars because you can really enjoy the moment with your favourite people around you.
After a beautiful and personal ceremony which included some lovely readings and pre-recorded folk music by Lauren's friend/absent bridesmaid Mary (who lives in the USA so couldn't attend in person due to Covid restrictions) everybody headed outside to the pretty churchyard and I took the chance to get some images.
There was a lovely confetti moment before I whisked Lauren and Connor away for a mini photo shoot in the countryside nearby. Leaving their guests to head straight to Bishops Cannings Village Hall for the reception.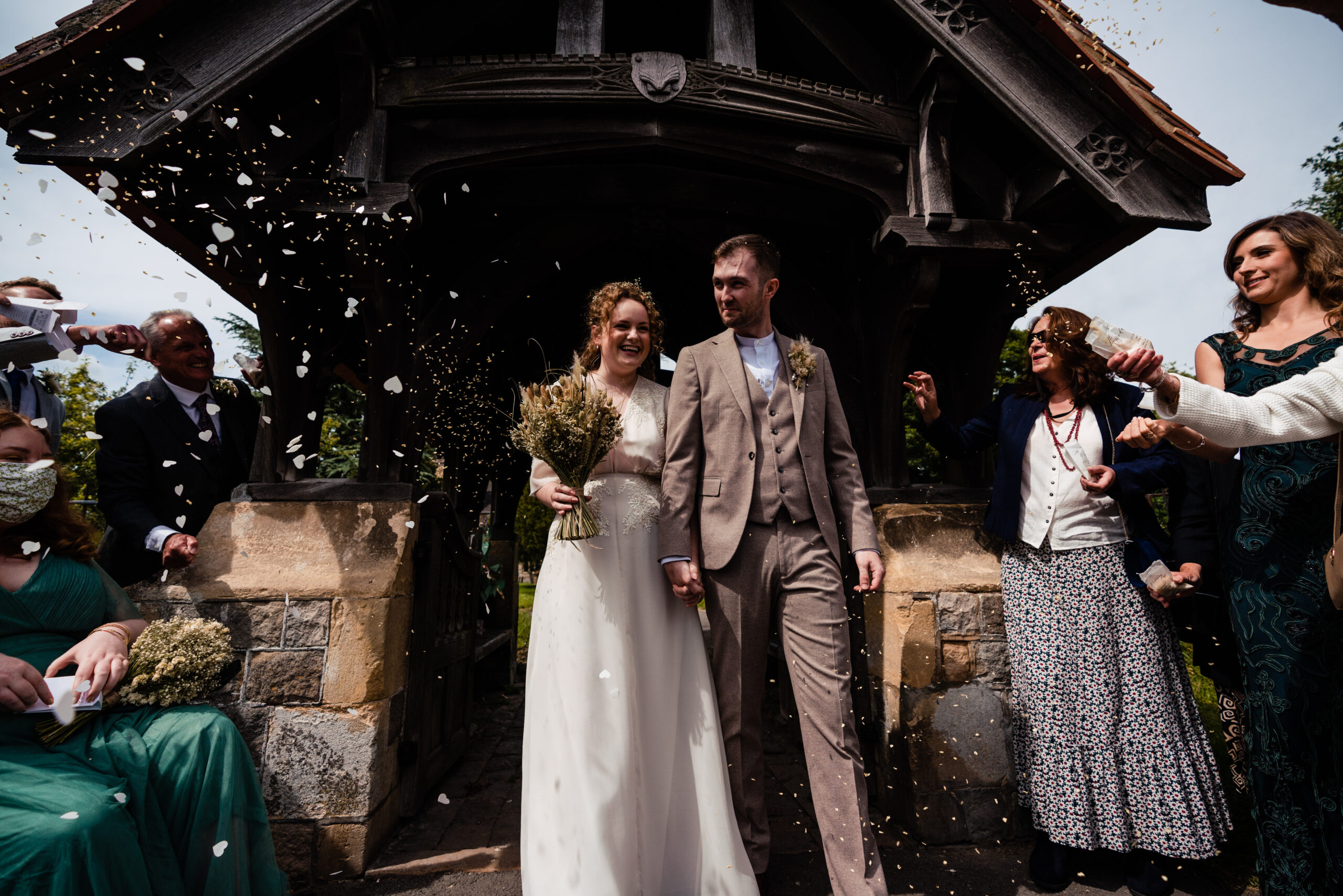 Storytelling wedding photography in Wiltshire
Now my favourite part of Lauren and Connor's day was the quick photoshoot and headed up to the Avebury Stones, these prehistoric stone circles were a fantastic location for some drone wedding photography.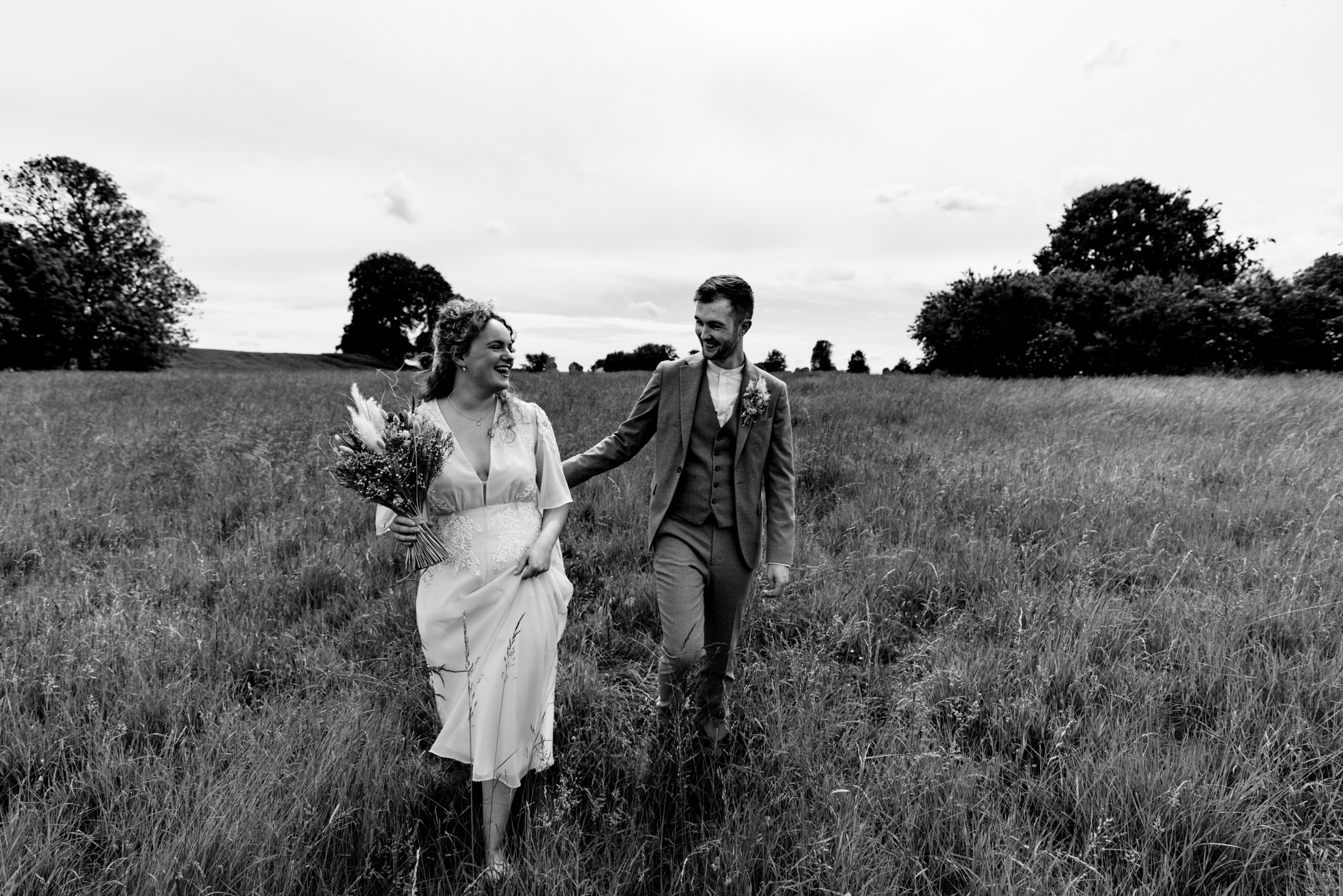 After a short time, we re-joined Lauren and Connor's guests for a drink's reception at Bishop's Canning Village Hall. Now, if there was a competition to find the prettiest village hall in England, I think Bishops Cannings would win. This light and airy little thatched village hall was perfect for Lauren and Connor's rustic and charming country wedding. They'd dressed the tables in a lovely woodland theme and the kind people on the village hall committee had even found them a last-minute marquee in case of bad weather. Thankfully it wasn't needed so everybody enjoyed a drinks reception outside and there were some very well received speeches.
Food was a buffet and there was no seating plan which worked so well with the laid-back country vibe of the wedding. It made the day flow so much more naturally. I must mention the cake it looked delicious and was kindly made by Amy (Connor's brothers' girlfriend)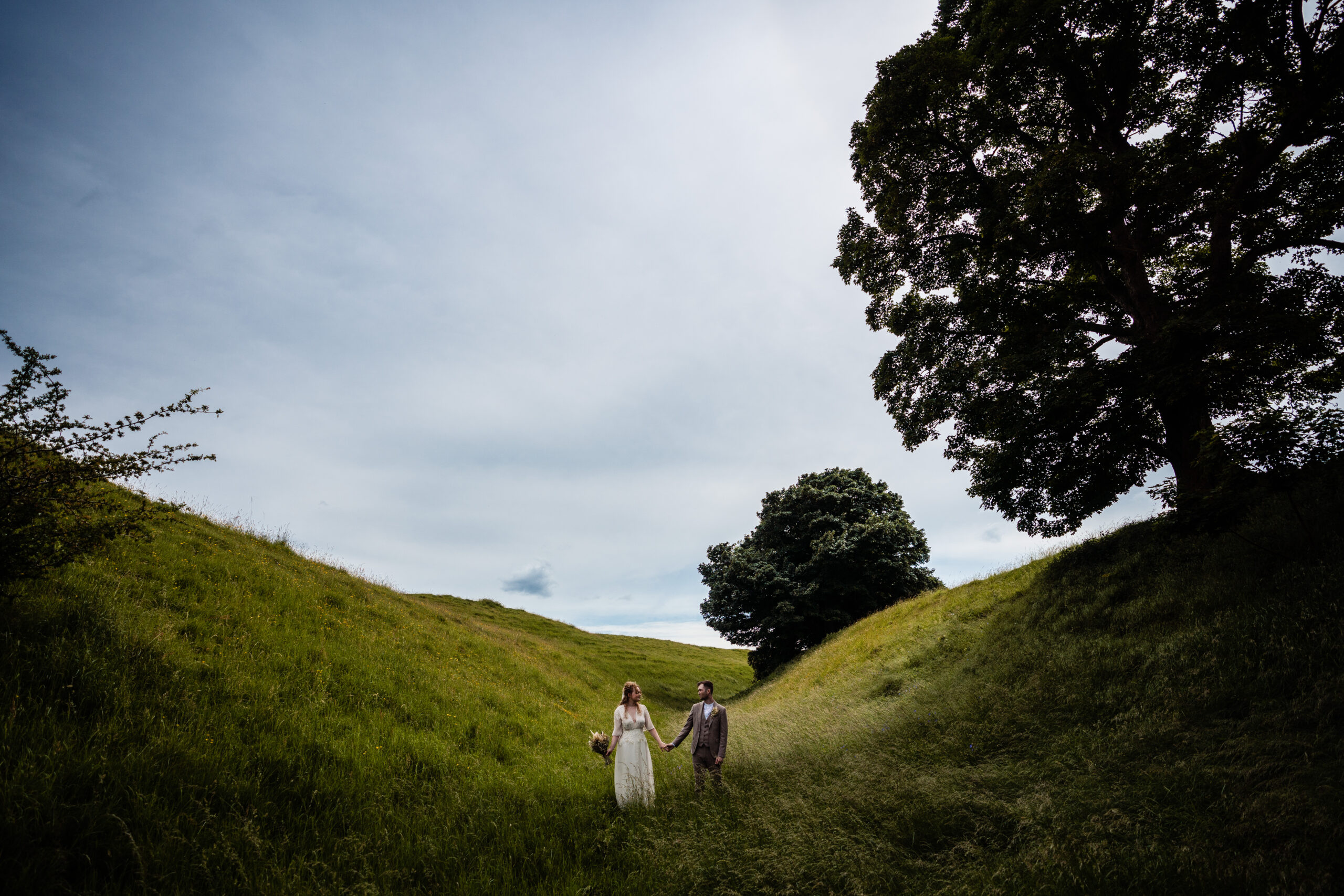 Unobtrusive and natural Wiltshire wedding photography
For the evening Lauren changed into a gorgeous shorter dress with sparkles that was better suited to dancing. Lauren and Connor cleverly worked with the maximum number of guests allowed, arranging for older family members who would prefer to not stay for the party to leave early evening, and for their friends who were up for a party to take their place. This again gave the wedding a lovely flow with guests arriving and leaving when then liked throughout the wedding day.
Before taking my leave I quickly took Lauren and Connor outside to get a romantic sunset image of them in front of the thatched hall all lit up ready for the evening's celebrations. It was the perfect image to close the story of their day.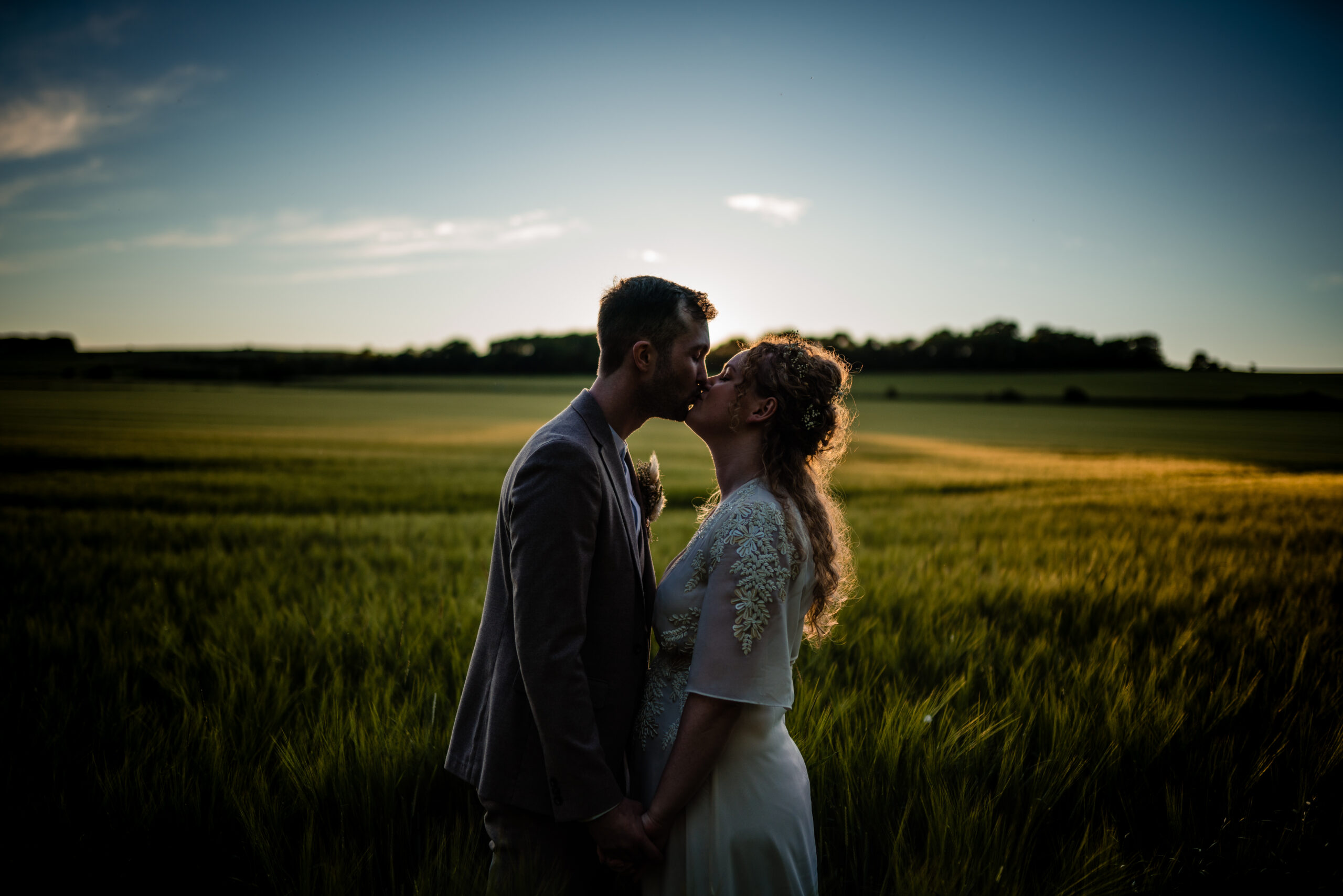 A charming, rustic, authentic country wedding full of love and laughter for a really lovely couple. I loved telling the story of Laura and Connor's wedding with images that I hope they will treasure and revisit for a lifetime. I'll leave the last words to them. Here's what Lauren and Connor said about working with me.
"We were so pleased with Patrick's photography both during our engagement shoot and on the wedding day. The images are so atmospheric and really capture the countryside setting of our wedding, and lives in general!

Lauren & Connor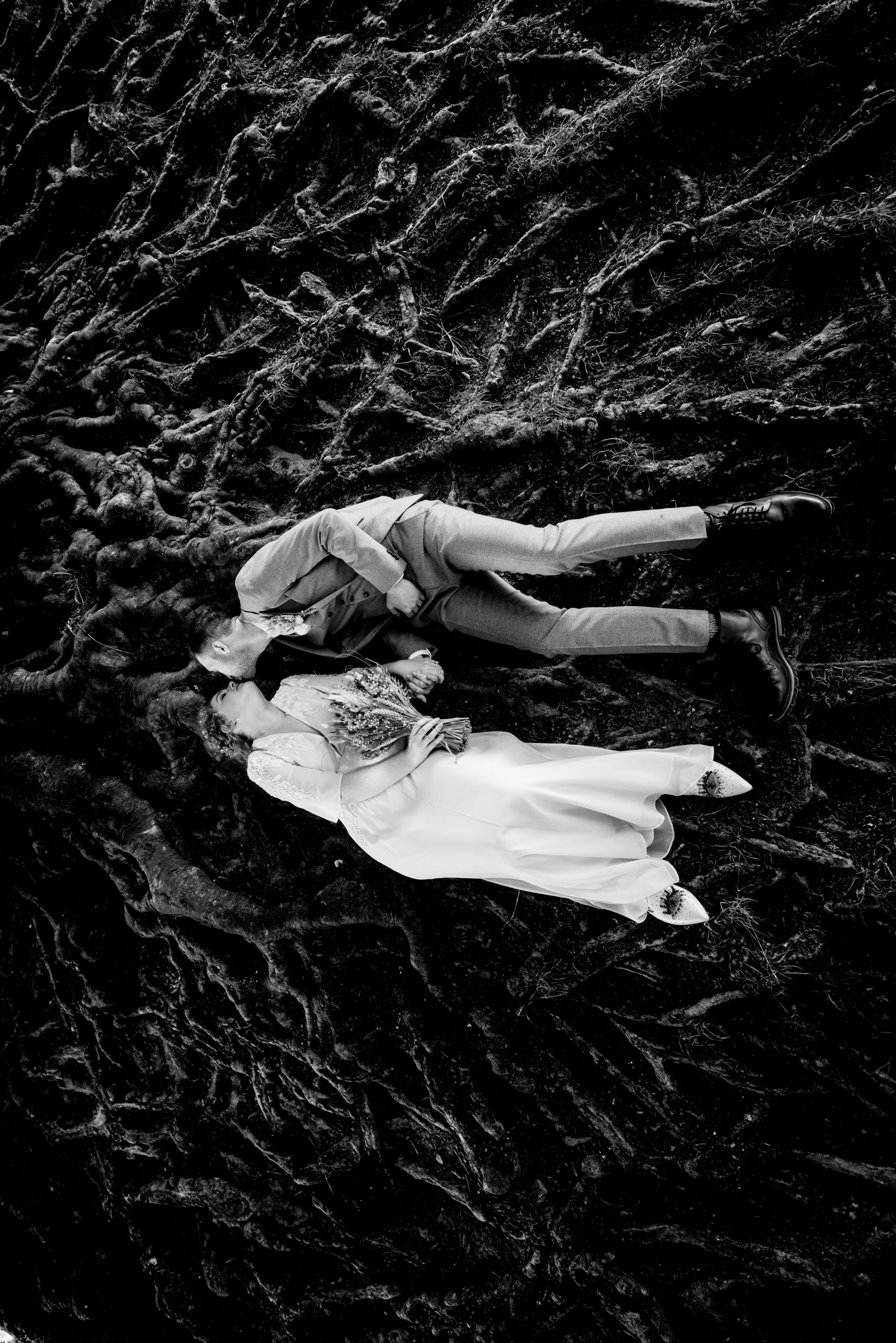 Want to book Patrick for your Wedding? Please hit the button below to get in touch.
Contact & Bookings